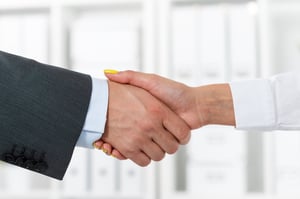 The temporary workforce is booming in Canada. Business owners are realizing the benefits that it can offer them, such as increased flexibility, reduced payroll costs, and the bridging of a skills gap. Temp workers can work when there are fluctuations in business, when permanent employees are out sick, on leave, or on vacation, and when special skills are required. But the advantages of temporary work don't end there. There is another benefit that employers have been enjoying through the hiring of temporary workers: the temp-to-perm hiring model.
Here are the advantages of this employment model.
1. You Get to Evaluate On-the-Job Skills
Interviewing is tricky. The candidates you meet might seem great. They might lie about their skill level or their experience. They might be able to win you over with their personalities. But once they get on the floor and start working, you realize that they aren't productive or efficient. And by then, you're already committed.
There are risks to hiring new workers. And hiring the wrong candidates happens all too often. Even if you perform background checks and call references while doing your due diligence, you could still end up being disappointed by your new hire.
With the temp-to-perm hiring model though, you get to see your workers in action before offering them employment. You get to see first-hand if they can meet your needs and if they'll be assets to your company by evaluating their on-the-job skills ahead of time, before making a commitment. This will help you to make more informed hiring decisions that are based on actual skills, not just lies or exaggerations on a resume.
2. You Get to Evaluate Cultural Fit
Sometimes, new hires are actually as good as they seem to be in the interview. They truly have the skills and experience needed for the work at hand. But even then, they're not the right fit for your company.
Your company's culture is unique—the attitudes, the pace, the way you do things all come together to create your culture. And cultural fit is important. You can't expect everyone to fit within it, even if they're exceptional workers. If they don't love the work they do or believe in the work your company does, they won't stick around long. And you'll face a high turnover rate because of this.
But with the temp-to-perm model, you can evaluate cultural fit and see if your new employee works well within your team, can handle your processes and procedures, and enjoys the work being done, which will improve your employee turnover.
3. Reducing Costs
When new hires don't work out, whether because of skills or experience or because of cultural fit, your costs rise. You have to spend twice as much money on advertising, recruiting, and hiring. You have to spend double on training costs. You continuously have productivity suffer while new hires are being recruited, onboarded, and trained. The costs of turnover can really hurt your bottom line.
Temp-to-perm employment opportunities can help you reduce these avoidable costs by ensuring that you're hiring the right person the first time around.
4. The Employee Can Evaluate Your Company
When things don't work out with a new employee, it's not always your decision. Many employees come on board for a few weeks and realize that the job isn't for them or the company isn't the right fit. Maybe their commute is too long. Maybe they don't like their coworkers. Maybe they're overwhelmed by all of the work. Maybe they just don't like the work they're doing. So they quit.
With the temp-to-perm though, your new hires can also assess their satisfaction with their new position. They can get the feel for the place, for their new coworkers, and for their responsibilities. They can decide whether they'll be happy there in the long term before committing to working there permanently.