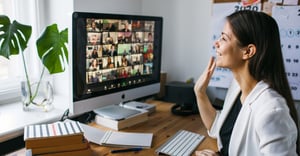 Even with offices and other workplaces reopening, many employers and employees are expecting to continue remote work programs. You may be one of them.
You might not need everyone in the office yet, or you want to play it safe by limiting the number of team members in the workplace. Social distancing is easier to manage with small groups. It could also be that some of your team members prefer to continue working remotely, whether full time or part time.
Whatever the case happens to be, you need the right tools on hand to help your remote team manage their workday more efficiently.
Download our whitepaper to see how we solve our clients' evolving staffing issues
If you're looking into virtual meeting tools for your team, check out these great free options.
1. Zoom
Zoom has certainly become a popular tool for video conferencing, with over 200 million active users reported in April 2020.
Zoom is very popular because it is very user friendly, with individuals and teams able to set up a free account and begin working remotely.
The video conferencing tool is also very easy to use on a mobile device. It's a great tool for meetings, as you can create a meeting for up to 100 users for free. You can share screens, customize backgrounds, and record meetings. Paid versions of Zoom add more features including longer meetings, moderated breakout sessions, and customized links for your company.
2. Skype
Skype was once the name in free video conferencing. It can be a tried and true choice for your team.
One of the reasons Skype could be a great tool to choose is because your team members may already have a Skype account. Skype is currently owned by Microsoft, which means it integrates with Microsoft accounts, and the software your team is already using.
Skype is free, but you can also upgrade it. Skype for Business and Microsoft Teams allow much more functionality, and there are extensions you can buy to assist with webinars, conferencing, and more.
3. Google Hangouts
You may not have considered Google's video conferencing tool, if only because the name makes it sound too much like something designed for college kids. Hangouts consists of all the hallmarks of Google's ingenuity though, being both easy to use and reliable.
Hangouts is a great option for small teams, as it supports up to 10 participants for an unlimited duration. Your team members might already have an account, since they can use their Gmail or Google accounts to access this free tool. There's even iPhone and Android integration.
Like other Google products, there are paid enterprise-level options, which means you can expand its functionality.
4. Slack
Finally, there's Slack. Many organizations have adopted this app as a way to share instant messages between team members. Slack includes video conferencing capabilities as well. With the free version of Slack, video calls are limited to one-on-one meetings.
If you're already using Slack, this tool can help your team members connect in real time and hash out issues or concerns quickly. Paid options expand meeting capabilities, so you can explore these choices if this app is favoured by your team.
Need more tips regarding having your employees work remotely? Contact Liberty Staffing Services today! We're here to help your staff, and business, be successful.