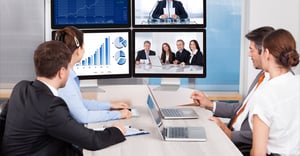 The world of work looks a bit different in the wake of the pandemic. Even as lockdowns lift, many of us are finding that our offices aren't going back to "normal" anytime soon.
We need to adjust to the new normal. For managers like you, that includes working with a hybrid workforce. You have both in-person staff coming to the office or the storefront, as well as employees who are still working off-site at their home offices.
Download our whitepaper to see how we solve our clients' evolving staffing issues
These best practices can help you transition to this new hybrid workforce more easily, and will allow you to manage your team with success, no matter where they are.
Treat Everyone Equally
In the past, traditional in-person working arrangements were often given precedence over remote work and telecommuting positions. It's easy to see why this happened. Remote workers often suffer from an "out of sight, out of mind" bias. The people we see on a daily basis may feel more "important", if only because we see them all the time and think about them more often.
Even now, it might be necessary to give your in-person team some "extra" attention. You may have to rearrange the office to allow for proper social distancing. Providing easy access to hand sanitizer, or masks and gloves could be a new workplace safety standard.
In other areas, though, you should strive to ensure that everyone on the team is treated equally, no matter where they're working from. This means policies and procedures should be the same for everyone. Expectations might have to be a bit flexible for remote workers, but you should then try to extend similar flexibility to your in-person team.
Communicating With Everyone
It's often easier to communicate with your in-person team. You can simply swing by their desk or invite them to your office. For your remote team, you might need to send an email or schedule a meeting.
Nonetheless, you should strive to consistently communicate with everyone. If there's a policy change, send out an email or a text so everyone receives the information immediately. That ensures there's no delays in the remote team getting crucial information.
You may need to tailor communications for each team. Your remote team might not be all that invested in updates on the office cleaning situation, whereas the in-person team will be quite interested to hear about these measures. By contrast, your in-person team may be less concerned about upgrades to the servers that will affect the cloud scheduling software you use.
Be sure to communicate achievements and celebrations as much as possible.
Get Everyone Together
Team cohesion is enhanced by gathering everyone together. Have your in-person team and your remote team check in to a Zoom update meeting once a week or once a month. This helps you keep everyone on the same page, while also reinforcing that you're all on the same team.
Don't forget about fun either. Host a virtual board game on Friday afternoon, or arrange a virtual office quiz. Have remote workers and in-person employees work together to score points against the other teams. You can even offer prizes, but remember to keep it lighthearted.
These kinds of events present excellent opportunities to reinforce company culture. Celebrating achievements together works in a similar way. Ask your team members what they're doing to support self-care, or keep with green initiatives during lockdowns, social distancing, and remote work.
Let Employees be Independent
Finally, managers should take a step back and let their team members exercise some independence. It can be tempting to micromanage any employee, whether they're working remotely, or in the office with you. Remote employees are often more difficult to micromanage, but taking the step back lets your employees do what they do best. In turn, they'll be more confident and ready to contribute positively to the team.
With these tips in mind, you'll be managing your hybrid team just as successfully. If you need more tips, contact Liberty Staffing Services today.