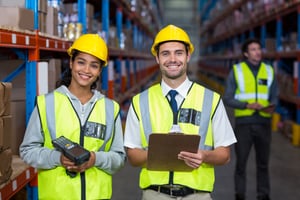 The word "temporary" may be scary to some. After all, when you're searching for employment, the last thing that you want happen is to find a great job, and the assignment ends quickly because the contract is not long term. Most job seekers ideally want full time employment.
So why are more and more job seekers turning towards temporary gigs?
At Liberty Staffing, we offer lots of great temporary employment opportunities. Here are a few reasons why many of our employees seek our temporary work versus permanent employment. Perhaps these benefits will persuade you to accept a temporary role with us.
1. Earn Money
Everyone needs to earn money. After all, everyone has bills to pay. Accepting a temporary job is a great way to earn some extra money. Depending on the role, a temporary assignment could last for a few months, or a year.
It's better to accept a temporary role, instead of waiting for a permanent job to come along. Finding permanent employment can take awhile. Why not work a temp job and earn some money while you continue your search for permanent employment?
2. Shifts That Fit Your Schedule
Do you have kids? Are you looking to gain a part time opportunity while you're in school full time? Whatever your situation is, a temporary role can be the perfect solution. Just let one of our recruiters know what day and time that you're available for work, and we'll try our best to match you with a position that fits your schedule.
3. Add to Your Resume
You may think that adding a temporary role will do more harm than good on your resume. After all, an employer may look at your four months of employment at your last position and wonder why you didn't stay on longer with the company. Job-hoppers are often frowned upon by employers. Normally, employers want staff that will stay with them for the long haul.
However, adding a temporary job to your resume is good idea. Just don't forget to note that the position was a temporary role for X amount of months. An employer will understand.
4. Try Different Jobs
The best part about a temporary role? You get to try out a variety of jobs, and work in different fields! Temporary gigs are great for recent graduates. They can help you decide what kind of field you'd like to work in.
Temporary jobs are also great for parents who are looking to return to the workforce after a long time away (because of paternity/maternity leave). Perhaps you're feeling like changing careers. A temporary job can help with that.
Ready to apply with us? Contact your nearest Liberty Staffing branch location and we would be happy to help you find a great temporary opportunity.