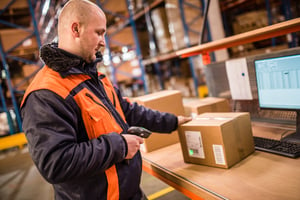 Canada is an enormous country. Getting products from place to place often presents a large challenge for businesses. Whether it's ensuring groceries are on the shelf at the local store, or getting supplies to a mine in a remote location, businesses rely on shipping.
As a result, almost every Canadian business has some sort of shipping/receiving operation. You may work in house for a particular company, or maybe you work for a third party that facilitates the transit of goods across the country. Either way, there's no shortage of opportunities when it comes to building a shipping/receiving career in Canada.
This guide looks at why this is a great choice for many Canadian workers. It also provides information on the duties, responsibilities, and other aspects of the jobs you'll find in shipping/receiving.
1. There are Many Opportunities With a Shipping/Receiving Career
As mentioned above, shipping forms the lifeblood of Canadian industries and businesses. Without a shipping/receiving function, goods and products aren't getting very far. As a result, shipping/receiving job opportunities are plentiful.
This means there are various career paths you can choose to follow. You may start out as a Shipping/Receiving Clerk and work your way up to becoming Manager.
Many people who work in the management of a warehouse start on the floor, often as Pickers and Packers. They may then advance to positions with more responsibility, such as Receiver.
Those with a good head for logistics can find themselves climbing further up the ladder. Many companies employ people in supply chain management.
2. You Have Your Choice of Industries
Another reason a shipping/receiving career is a great choice is that so many industries rely on shipping/receiving functions. If you're working in an industry that falls on rough times, you can often take the skills you've developed to a new industry.
This also means you can seek out new challenges, as every industry has its own shipping and receiving needs. For example, someone shipping parts for construction equipment across Canada faces different challenges than someone trying to move consumer orders from the warehouse to the customer's front door.
3. A Wide Variety of Skills are Needed
Another aspect of shipping/receiving jobs that people often don't consider is the degree of skill it demands. Although you don't need a diploma or an undergraduate degree to have a successful career, you are going to have to put a wide variety of skills to the test.
As mentioned, the best Shipping/Receiving Clerks have a good head for logistics. They also have an amazing eye for detail, which allows them to spot differences between invoices and packing slips easily.
Organizational skills play a key role, since you may be moving pallets and storing boxes, as well as tracking paperwork on any number of shipments. Scheduling and problem solving skills will help you work through issues with getting shipments out the door and to their destination on time.
Communication skills are also essential. You may need to communicate with department managers and representatives from courier companies to keep everything moving smoothly.
4. You Can Get Started Right Now
Most of your training for a job in shipping/receiving will happen at work. If you plan to pursue an eventual management position, you may want to take courses to assist with this.
You can embark on your career in shipping/receiving today! Work with Liberty Staffing to find an entry level position available near you. This gives you the opportunity to start working, and develop the skills you'll need for a long, successful career.
If this sounds like the right career path for you, get in touch with Liberty Staffing Services today!