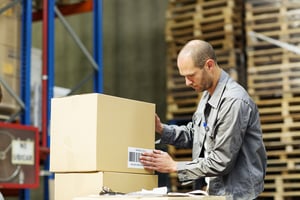 Whether you're the hiring manager posting the role or the candidate seeking it out, you might wonder what skills and qualities are necessary for warehouse positions.
Below are some of the skills successful candidates will exhibit. Certain qualities are also desirable for warehouse positions as well.
1. People in Warehouse Positions Must Communicate
Almost any job posting will ask for good communication skills from candidates. Positions around the warehouse are no different.
Warehouse workers will need to communicate with each other on a regular basis. They'll need to assign tasks and ask questions. They may need directions or instructions. They may need to ask for help or communicate problems.
Good communication skills help people work together and get the job done.
2. Picking, Packing, and Stocking Skills Are a Must
Some entry level roles in the warehouse won't require experience. Nonetheless, candidates who have demonstrated experience with common warehouse tasks may be preferred.
Those who have experience picking and packing orders will likely display other skills and qualities as well. They may be good at organizing and prioritizing tasks. They might also be detail oriented.
The same is true of people with stocking experience.
3. Dependable, Flexible, and Punctual
These three traits are common among many positions, but they're especially desirable in warehouse settings. Dependable workers are those who show up and give it their all for every shift. Punctual workers arrive on time, and they also complete tasks by appointed deadlines.
Flexibility is in increasing demand, especially as employers create lean production paradigms. Workers may be called in for different shifts. They may also be asked to be on call or to fulfill different jobs around the warehouse.
4. Training with Certain Types of Equipment is Essential
Employers are also seeking experience and formal training using particular kinds of equipment. This is especially true of motorized equipment such as forklifts or power jacks.
People with these skills will often be recruited for particular warehouse roles. It's a good idea to have several workers trained to use different equipment, especially as the demand for flexibility increases.
5. Speed and Accuracy
The best warehouse workers are efficient. They're speedy, but they're also accurate in what they do. They know their jobs well, so they pay attention to details. They also know when to take extra care and when they can speed things up.
6. Learning Skills Will Serve You Well
Whether you're looking for roles in a warehouse or you're hiring for them, learning skills are something to be aware of. As technology advances and the demand for flexible workers increases, those working in a warehouse are going to be called upon to learn many new skills.
Learning skills help workers master new skills and new processes alike. They can even help them think outside the box and discover new solutions. Problem solving skills are often seen alongside good learning skills.
7. Shipping and Receiving Experience is Valued
Another skill that often needs to be learned on the job is shipping and receiving. These are common tasks in warehouses, and they have their own processes and procedures.
This is just a partial list of the skills and qualities those filling warehouse positions should possess. Keep an eye out for some of these traits, however, and you'll be on the right road.