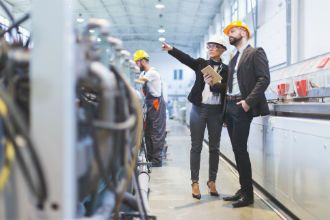 There's a talent shortage in the manufacturing industry right now, so you may be trying to get by with the hands you have on deck. After all, with unemployment at a record low, there are fewer job seekers to go around. You may not be able to hire the people you want to hire or find the talent you need.
This is particularly true of light industrial workers. Talented workers will be scooped up by manufacturers offering more competitive packages for challenging jobs with more upward mobility. In this situation, you may think you're better to put off hiring more light industrial workers for a while.
If you notice any of the following signs, however, you can't put off hiring any longer.
1. You Can't Meet Deadlines
Try as you might, you're constantly missing your production deadlines. You might blame this on any number of things: an increased number of orders, a lack of machines, machine downtime, and so on.
If it's a continual problem, even after you address the other issues, then the problem likely lies within your workforce itself. The fact of the matter is you need more light industrial workers to help you meet your production quotas and your deadlines.
2. You've Turned Down a New Customer
Think about your clientele for a moment. Have you turned down any new offers or new clients in the last couple of months? You're already running at full capacity. If you add any more work, you won't be able to make the deadlines and you'll begin to fall behind.
You don't want to disappoint your existing customers, so you've turned down the additional business. You just don't have the capacity for more.
You need to hire! If you're already running at capacity, but new clients are knocking on the door, then it's time to expand your production capacity so you can continue to grow your business. Hiring more light industrial workers is key.
3. Machines are Idle
You don't have a problem with the number of workstations in your plant. In fact, if you could get the machines running at full capacity each and every day, for each shift, you'd have no trouble meeting your current quotas and deadlines. You'd even be able to take on more clients.
Why are some of your machines sitting idle? While mechanical failure is always a real factor in the manufacturing industry, you may have noticed you often don't have enough people on hand to staff all of your workstations. Turnover, sick days, and vacations could mean you're running at half the speed you could be.
If you find machines are idling in your plant as often as they're running, it's probably time to hire more light industrial workers to keep things moving.
4. Your Employees are Overworked
Are your employees showing up to work tired or complaining about how they're overworked? Are you scheduling them back-to-back shifts or running overtime? Your employees are likely tired!
If they're tired, they're likely going to make more mistakes. They may also become disengaged and decide to leave. Tired employees may also be sick more frequently. If you've noticed a sudden rise in sick days, don't assume it's because everyone's playing hooky. Instead, look at what their schedules have been like for the past few weeks.
Being literally sick and tired is no good for your employees, but it's also no good for your business. When your employees are at their best, they help you meet production quotas, deadlines, and more.
Give them a helping hand by hiring some more light industrial workers to share the load. Temporary contracts could help you through a busy season, instead of scheduling overtime.
If you notice any of these signs in your business, it's time to think about hiring more light industrial workers. A recruiter like Liberty Staffing can help.