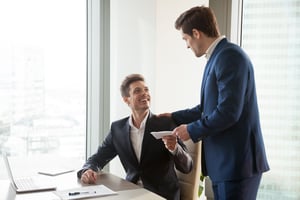 For many people, summer may seem over already. Students are likely beginning to think about heading back to school. If you have a summer job, you may be contemplating taking a vacation before heading back to school, and maybe giving your notice early. If you're on contract, you might wonder what will happen when the contract is finished. Some students may even wonder if there's something they can do to ensure they'll be invited back next summer or given a job offer for ongoing work.
There are many things summer employees should do to ensure they leave their summer employment on good terms. Take some of these actions and you'll not only make the most of your job this summer, but you'll also be working towards a brighter future in the workforce.
1. Take Extra Shifts if Available
If you know you're going to be leaving your job at the end of August, why not make the most of it now? Summer employees should consider taking extra shifts whenever possible.
You might be resistant to this idea. Students especially may feel they want to take some time off and enjoy the summer. If you'll be leaving the job in just a few weeks, however, it makes sense to make the most of it now.
If you're hoping to be invited back next year, receive a contract extension, or turn your summer job into permanent employment, this is a good tactic as well. It shows your willingness to go the extra mile, your dedication, and your work ethic. If there's an open role, your name may be at the top of the list.
2. Stay Until September
Most summer employees resign their positions in the last two weeks of August. They do this to have extra time for a vacation before the school year starts again.
Why not stay a little longer? This helps you in many different ways. Much like taking extra shifts, this allows you to truly make the most of a time-limited employment arrangement. In turn, this will help you get through the school year.
Much like taking extra shifts showcases your work ethic and dedication, so too does staying on until September.
3. Leave on Good Terms
When you do leave, whether because you resign or because the work arrangement comes to a close, be sure to leave on good terms. Give the employer two weeks' notice if you're resigning, and be sure to do it in a pleasant way. Thank your employer for the opportunity, and take a moment to reflect on everything you've learned.
Leaving on good terms is particularly important if you'd like to be considered for future roles with the employer. A contract extension or permanent position may not be available right now, but you never know what will come up in the future. You may also be thinking about next summer. Parting on good terms could help secure next year's summer job. At the very least, you'll likely be able to get a good reference for future job applications.
4. Express Your Interest in Future or Ongoing Employment
Employers may not be able to offer every summer employee a contract extension or a permanent role with the company at the close of the summer. Future roles, however, will open up, and if you'd like to be considered, tell your employer.
Expressing your interest is a way to ensure they know you'd be open to the opportunity. Encourage them to keep your resume and contact information on file.
By taking these steps, you can make the most of your summer employment, and begin building your future career as well.