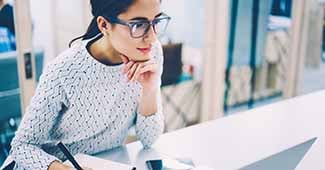 Think back to last year's Administrative Professionals Day, which is observed in Canada on April 21. Do you still have the same administrative staff that you had back then? Or are you dealing with high rates of turnover because your administrative employees are unhappy or unsatisfied?
Keeping your admin team engaged is a great way to improve retention and keep your operation running smoothly. Liberty Staffing can help you fill the gaps that are currently slowing you down. Contact us today to find out more information.
For new and current employees, here are 4 great ways to turn your administrative professionals into engaged workers!
1. Treat Your Administrative Employees with the Respect They Deserve
Nothing alienates a worker more than being treated like they aren't needed. We need administrative professionals to manage the ins-and-outs of our offices. These valuable team members are responsible for vital workplace functions, including: managing correspondence, preparing and tracking invoices, distributing information, managing internal workflows, scheduling meetings, ordering office supplies, maintaining inventory, answering phones and emails, establishing office procedures, enforcing policies, greeting visitors, directing people to various locations, recording meetings, preparing travel itineraries, and compiling research and statistical data to support the mission of the company.
Clearly, these are essential tasks! The most important thing to do is to make sure that your office administrators know how important they are to your workforce, and why you can't succeed without them.
2. Provide Opportunities and Tools to Communicate
You can't have an engaged workforce if they're not able to communicate with each other.
Communication is no longer as simple as attending in-person meetings and sending or replying to emails. It is also about online communication and hybrid work teams. Good news: there are some excellent new tools to promote communication between workers when everyone is remote, as well as when you have a hybrid workforce of some people at home and some people in the office.
These tools can be adapted to fit any budget. Make sure that your administrative staff doesn't feel like they are sitting in an empty void, unable to communicate with coworkers, supervisors, and other team members.

Alienation is bad for worker satisfaction, which means it is bad for retention.
3. Increase Their Pay
Is it any surprise that increasing someone's pay makes them feel like they are important to the team? It may not be the easiest solution to the problem, but it's an effective one. People are motivated by money!
If you aren't sure whether or not you can afford to give out across-the-board pay raises, one thing to consider is how much you are currently spending when you lose productivity due to high worker turnover or poor job performance.
Could paying more help you keep your workers happier and more engaged? We think so!
4. Make Work More Fun
We have written about this strategy before. Why? Because it works!
While we recognize that the main purpose of being at work is to get work done and create profits, we also recognize that unhappy workers quit. This doesn't help you with either of your goals: getting work done or driving profits.
To avoid losing workers who are frustrated, bored, disconnected, or unengaged, try to make things more fun!
You have countless options: holiday parties, company picnics, themed days, social events like bowling nights or summer BBQs, and so much more. These experiences build camaraderie, raise worker spirits, and help you develop a happier and more engaged workforce.
Are You Looking for New Workers to Join Your Team?
Start fresh with a brand new team of permanent or temporary workers!
Liberty Staffing helps employers all over Ontario find team members who are ready to jump right in and get started. If you need new administrative support team members, you are not alone. Lots of companies are looking to hire right now. As an employer, that means that you have to be competitive.
We can help you identify what makes you competitive as an employer and how to communicate that to job seekers. And once you have your people hired, you can follow these steps to make them want to stick around!
Contact Liberty Staffing today so that we can help you fill vacancies in your workforce!