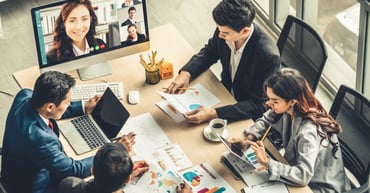 Hybrid workforces present unique challenges to managers and employers. Data suggests that many Canadians will continue to work remotely even after the pandemic, yet there are still plenty of jobs that must be performed on-site.
An accountant or sales rep may be able to work from home, but a machinist or a janitor needs to be in-person at their workplace. Many employers find themselves with a hybrid workforce: some people at home and some people on the job site.
When you need to find workers, Liberty Staffing Services is here to help! We can connect you with the best full time or part time, temporary or permanent in-person workers.
Download our whitepaper to see how we solve our clients' evolving staffing issues
At Liberty Staffing, we help people find work, even during the pandemic. That means that we've become very familiar with the unique challenges of hybrid workforces. Specialized tools that have been designed with remote workers in mind will help you manage your in-person and remote workforce effectively. Let's take a look at some of those tools.
1. Channel-Based Messaging/Chat Platform
Teams need to be able to communicate quickly and efficiently. If some people are at home and others are in the office, it's not as simple as calling a quick meeting in the conference room or walking down to your colleague's office and running an idea by them.
That's where channel-based messaging platforms come in handy! These platforms, including Slack, Chanty, Microsoft Teams, and Facebook Workplace, are designed to get teams of people interacting naturally. Channels allow people to be divided into teams and participate only in conversations that are relevant to them. Your in-person and virtual workers need to be able to communicate quickly, and these apps will help them do so.
2. Video Conferencing Subscription
Zoom's free option will only get you so far. You need to be able to have as many people on your video conferences as possible. Time limits are also frustrating!
When you choose a video conferencing platform, choose one that works for your needs. Consider how many people need to be on the call, whether you want a webinar option in addition to traditional conferencing, how many users in your company need to be able to host their own meetings, and how long you need the meetings to be.
We all know how video conferencing helps people get work done, but don't forget that it can also be utilized to build community and create a cohesive team experience. It is hard work to help people feel connected to their workplace when people are spread out among multiple settings. However, video chatting can be a great way to nurture and maintain connections.
3. File Sharing Software
Sharing files between in-person and remote workers needs to be fast, but speed isn't the only issue. File sharing also has to be safe and secure.
Secure file sharing is about protecting your data, along with customer data, so that everyone's information is fully protected. File sharing gets more complicated when nothing is on paper anymore. Be sure to choose a file sharing platform that has a proven track record of consistent performance and security.
4. Tech Support
Who is in charge of your tech support? Do you need to hire additional people to support your staff in their various technology needs?
Strong tech support workers can improve the performance of hybrid teams by making sure that they have functional hardware, seamless software integration, effective access to cloud storage, and straightforward communication tools.
Technology support isn't necessarily a "tool" to help you navigate a hybrid team, but these workers are the people who can help you use every other software tool! If you're not investing in strong technology services, you're probably going to have problems sooner rather than later.
Find the Best People to Join Your Team
If your company needs great people, we can help you find them! Whether you need to fill one or many in-person positions, contact Liberty Staffing today. Our goal is to provide Ontario businesses with highly qualified and motivated workers, and we look forward to helping you build your ideal team.