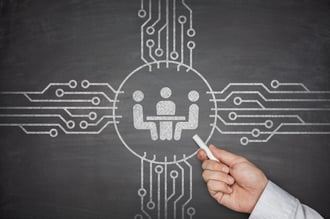 Partnering with a staffing firm can allow you to build a strong team of employees, both temporary and permanent. Staffing agencies employ experts in recruiting and hiring, allowing you to only hire the very best talent in the field. They work diligently to recruit the top candidates, both active and passive, for your open roles. They can fill your empty positions faster than you could do so in-house. They can save you a lot of time by handling all of the legwork in the hiring process. And they can save you money on recruitment costs, training costs, and turnover costs, because they only place candidates that have the skills and experience to get the job done right and they recruit based on many factors, which means that you'll get candidates who are a good match to your company culture.
But if all of these benefits aren't enough, staffing agencies also provide myriad other services that are advantageous to your company.
Here are five of the additional services that your organization will also benefit from.
1. Comprehensive Payroll Management
Handling administrative tasks that don't generate revenue is a waste of time and money. And this includes payroll. When you hire in-house, your company is required to pay your new workers. This includes onboarding them into your system, making the correct deductions, calculating hours and wages, filling out the right paperwork, and making remittances to the government. But when you partner with a staffing firm, the workers you hire will continue to be the administrative responsibility of the agency—not yours. That means the agency will handle the comprehensive payroll management that comes with employing these workers. It can be a big load off of your shoulders.
2. Health and Safety
Naturally, you need to provide a safe environment for all of your workers. But the onus isn't all on you when you partner with a staffing firm. The agency will ensure that the workers you hire have the required health and safety training and understand their safety obligations and responsibilities. Instead of having to worry about new workers getting hurt on the job, you'll onboard employees who already know how to look out for hazards and how to work safely in your work environment, even if you work in a high-risk industry, like manufacturing.
3. Legislative Compliance
You must follow a lot of legislative regulations as an employer. And this responsibility can be very stressful and time consuming. When you partner with a staffing firm, though, this legislative compliance will not be your responsibility for your new workers. The agency will ensure that your workers are properly classified, that they are paid in accordance with the correct payroll and tax laws, that they follow the health and safety protocols, and that all employment standards are being complied with. The agency will do its due diligence so you can reduce your risk of noncompliance and the consequences that come with it.
4. Candidate Testing
Hiring new workers, especially for specialized positions, can be risky. But instead of hoping and praying that your new employees are as skilled and experienced as they state on their resumes, your staffing firm can ensure that they are by performing job-specific and customized testing. The agency will only place candidates that have proven to have the right skills for the job.
5. Invoicing and Billing
Of course, you will have to pay a fee for the agency's services, but you won't have to wonder what you're paying for because you'll also receive easy billing with detailed weekly invoices. Staffing agencies are transparent and they will list off every service rendered and every hour worked in an effort to have an open and honest partnership with you.