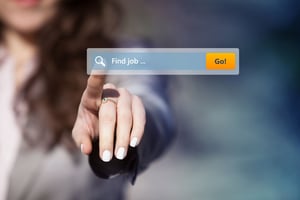 New Year's is the perfect time for personal and professional reflection and to set goals for the next 365 days. Whether you love your current job, you're competing for a raise, or you are in the market for a new role, it's always important employees and potential job seekers never become complacent.
Hiring managers are always interested in hiring the right people for their businesses, so it's essential for job seekers to lead with their best foot forward if they want to make their mark in the competitive job market.
Here are five career goals for job seekers in the new year.
1. Be Serious and Take Charge
New Year's is an ideal time to seriously ask yourself if you're really satisfied with your current career path. If not, it might be time to re-evaluate your career goals and find something that you're truly passionate about!
If you decide to pursue what you're good at or something you're invested in, it makes the job search a little easier and it makes your interviews effortless.
Don't forget to do your research as well. The more you know about the specific organizations you really want to be a part of, the more natural you will come across in communications with them. Brushing up on your ideal company's past successes and future plans can only help you land the job.
2. Plan Better and More Often
If you're taking your job search seriously, you know you definitely need a plan.
Those who rush into things often make mistakes, and this holds true for almost any plan, job-related or otherwise. This starts with identifying your career goals and planning the steps needed to achieve them.
Start with updating your resume, cover letters, and related samples. Build your online presence. Expand your network of friends and colleagues. Make a list of companies to target in your job search and practice interviewing for your dream job.
Plan ahead and make effective lists but also set realistic job-search goals. Apply to a certain number of roles weekly or narrow down a list of potential applications daily.
3. Network Your Heart Out
Referrals are huge in the job market. Getting to know the right people can help you accelerate your career goals. New year, new you, right? So, make the effort to put yourself out there and forge new connections and nurture existing ones.
Forging meaningful relationships is a key part of networking, so keep in touch with friends and colleagues as best you can. Use social media to your advantage and don't hesitate to attend industry gatherings or other networking events.
4. Update Your LinkedIn Profile
If you're in the market for a new job, a LinkedIn profile is a powerful resource at your disposal to be noticed in the sea of job seekers. In fact, an incomplete or rushed profile can actually hurt your chances of landing a job; don't let this happen to you!
A large number of employers nowadays will review a potential candidate's social media (to avoid hiring the wrong candidate), and the social network of choice for modern professionals is LinkedIn.
Make sure you keep your skills and experience up to date so you will be visible in LinkedIn's search results. If you're ever lost, don't worry. LinkedIn lets you know your profile's level of completeness, so don't stop until it's near perfection!
5. Radiate Positivity
A smile and a positive attitude can go a long way for any job seeker.
Achieving your career goals is often a long journey. Succumbing to negativity only makes things worse. So, it's important to be enthusiastic and energetic, and allow yourself small victories in your job search.
Be focused on your success and surround yourself with friends and family who will keep you motivated and grounded.
A new year means a new you, so take control of your career goals!