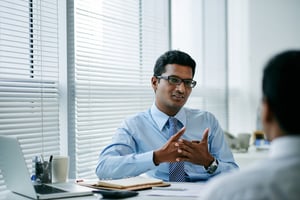 Are you looking for an office position in Ontario? If you've received a call from a potential employer to come in for an interview, you may be feeling a bit anxious. After all, an interview mistake could make or break your chances of landing the job. However, there's no need to be stressed. If you are well prepared and equipped for your interview beforehand, it'll run smoothly. You'll obtain that office job in no time!
Liberty Staffing would like to provide you with some common interview questions asked for office positions, and how you should formulate your answer. Read on.
1. Tell Us About Yourself
More often than not, when an employer asks this question, they actually want to know more about you personally than professionally. You can discuss your skills and past work experience, but an employer will already know that information from reading your resume. If you didn't have the skills or past work experience required for the open position, the employer would not have asked you to come in for an interview in the first place.
The "tell us about yourself" question is literally an open question posed to get the conversation/interview rolling. This question is often used to break the ice. A hiring manager genuinely wants to get to know you: your personality, character, hobbies, and your goals in life. Give your interviewer a glimpse into your life.
2. What Programs/Software are You Proficient With?
While you may have all of this information outlined on our resume, hiring managers may also verbally ask you what programs/software you are proficient with. This is just to confirm that you will be the right fit for the position. Or, if you are a beginner at certain programs, this will let the employer know that you may need some additional training if hired for the position.
Are you proficient with Word, Excel, PowerPoint, QuickBooks, etc.? Are you savvy with social media? Do you prefer Mac or PC? These are all typical questions that you can expect during the interview. It may be a good idea to review all of the programs/software that you are proficient with before you head into the interview, to have the information fresh in your mind.
3. What are Your Biggest Strengths/Weaknesses?
This question can be a tough one. You want to be honest, but not give the wrong answer. Many career experts advise to treat your weaknesses as strengths, but this may come off as a little phony. For example, common answers include: "I get so absorbed in my work that I loose track of time", or "I'm such a detail-oriented person that I consider myself a perfectionist, so it takes me longer than most to complete tasks".
Show that you are willing to honestly self-assess, and explain how you are working to improve on your weaknesses. An employer will appreciate that. No one is perfect.
4. Describe Your Dream Job
Here's where you should be as honest as you can. Do not try and sugar coat or tailor your answer to the specific position that you are applying for. If you are the right person for the position, what you describe as your dream job should be spot-on to the position. If not, then it's not the right position for you.
What company culture are you looking for? What's your ideal work atmosphere? Are you leading a team, or working individually? Let the employer know during the interview process.
5. Where Do You See Yourself in Five Years?
This is another question that employers want you to answer honestly. Most interviewees answer this question by stating that they want to move up in the company. However, unconventional answers like becoming an entrepreneur, or starting your own business, are just as acceptable. Be honest but remain professional.
Those are just some typical questions you may be asked on your interview. If you need more interview tips, feel free to contact Liberty Staffing directly. We wish you the best of luck at your job interview!