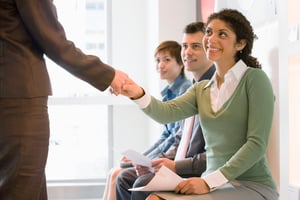 Have you ever wondered how a staffing agency, like Liberty Staffing, finds the best people for your open positions? It can take plenty of investigative work to uncover top talent in any given field. Recruiters work hard to source the right candidates for their clients.
Liberty Staffing Services has a multitude of qualified candidates who are ready to work in our recruiting database. Staffing agencies use several avenues to discover the best candidate for the role. Here are some of the best and most commonly used routes.
1. Staffing Agencies Make Use of Job Boards
Job boards are the most common way for people to search for jobs. They're also one of the most common ways for hiring managers to get their jobs in front of a wide audience.
Job boards are a staple among staffing agencies. Job seekers often flock to big boards, so it's a sure bet that agencies will post jobs to these sites.
Many agencies use a variety of different job boards, sometimes cross-posting open roles among sites. There are some aggregators that will scrape the web for new job postings and list them on their sites as well, amplifying the visibility of posts.
2. They Go Narrow With Niche Sites
The big job boards are good for getting broad visibility among job seekers.
The question is just how qualified these people are. When you're seeking top talent, big job boards aren't always the best place to go. Some individuals using them will no doubt have the skills and experience required for the role, but other applicants may be less qualified.
Niche sites help recruiters locate more specialized candidates. These sites don't have the reach of the big boards, but the audience they attract is often highly specialized. If you're looking for someone with a particular skill, a niche job board or forum could be one way to find them.
3. They're Active on Social Media
Social media is an up and coming way to conduct recruitment activities. Like job boards, posts on social media networks can reach a wide and varied audience. The ability to share these posts helps them travel further than they otherwise might.
LinkedIn is the most obvious choice for staffing agencies when they're searching for top talent. Facebook and Twitter can also help recruiters get the word out about an open role.
Liberty Staffing Services is active on Facebook, Twitter, YouTube, and Instagram. Follow us today to stay updated on our current job openings.
4. They Attend Job Fairs
This next avenue for finding top talent is tried and true. Most staffing agencies still send representatives to job fairs in their area.
Job fairs can be held for a number of different reasons. University and college job fairs are an excellent way to uncover entry level candidates looking for work experience in their field. Some job fairs specifically target a certain profession or industry. If a company is hiring for many positions, they may decide to hold their own job fair in-house as well.
5. Asking Other Candidates
Referrals are a good way to locate people who may be right for a role. People with particular education and skills often know others with similar backgrounds. For example, if you need to hire several administrative assistants, chances are a candidate you interview knows at least a few other people.
Find the People You Need
As you can see, Liberty Staffing works hard to unearth the best candidates for any role or industry. By using so many different avenues to find candidates, we can help you locate the people you need on your team. Contact us today to get started.