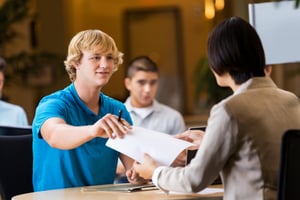 As an employer, you're constantly on the lookout for new ways to find top talent. You've tried job boards, social media, and more. Now you're working with a staffing agency, and you're wondering how they find the most talented candidates every time.

There are many different avenues staffing agencies, like Liberty Staffing, use to discover the right candidates for your open roles. Attending a job fair may be one of the strategies used.
What advantages do job fairs have over other methods? Here are a few of the great reasons staffing experts attend job fairs.
1. Staffing Agencies Can Find Motivated Candidates at a Job Fair
One of the reasons staffing agencies send their representatives to job fairs is because they know they're going to find enthusiastic candidates. Attending a job fair requires more effort on the part of the job seeker than submitting resumes online.
The candidates who arrive at the job fair are likely motivated to talk to employers. They will be handing out their resume. Since they've worked to research the fair, print off resumes, and come to the show to seek out employers, you know they're likely going to put in just as much effort on the job too.
2. A Chance for Face to Face Meetings
Another great reason to attend a job fair is the chance to meet candidates face to face. Some staffing agencies conduct impromptu interviews with top prospects.
Some people seem great on paper. Others may not have a stellar resume, but when you meet them in person, you know they're the right one for the role. Face to face meetings often give recruiters a much better sense of who a candidate is, even before they've applied for a position.
3. Finding Talent in a Certain Field
Some job fairs are specific to a geographic location, while others are for professionals in a certain industry. These are both great reasons for staffing agencies to send representatives to a job fair.
If the agency is working with a number of local employers, they can find candidates who live in the same geographic area. Knowing the local talent makes it easier to source and place them nearby.
Some industries require professionals with specific training, education, and experience. Industry specific events are great places to find these experts. They can be much harder to spot on big job boards.
4. Finding Passive Candidates for Future Roles
While job seekers at a job fair are usually motivated, staffing agencies are also building a network of candidates who could fill future roles. This is particularly true of staffing agency representatives at college and university job fairs.
Students may not have graduated and are only looking for seasonal work. They can certainly team up with a staffing agency to find a summer job, but the staffing agency might also consider them as passive candidates for future roles.
A student could eventually be a great choice for a permanent role once they've graduated. Staffing experts are always on the lookout for talent with an eye to the future.
5. Networking With Other Professionals
While you may think of job fairs as a place of competition, recruiters know it can be a great place to network with fellow professionals. They can meet other hiring and recruiting experts and share tips and learn about industry changes.
This professional network can be key to finding top talent in the future. Whether it's a new tip or a passive candidate referral, it could lead to placing the right candidate in a role.
As you can see, attending a job fair has plenty of advantages. It's easy to see why Liberty Staffing chooses to attend these events to find the right candidates for you.