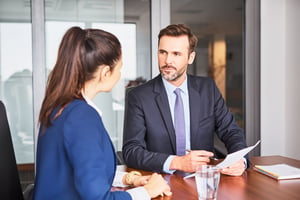 You probably know how a recruiter can help you find the right candidates for your business. You may already be working with a recruitment team to polish your job postings and screen initial applicants. Did you know recruiters can also assist during the interview process?
There are a number of different ways a great recruitment team can help you make the interview process more efficient and effective. Here's how.
1. Help You Select the Right Candidates to Interview
Before you begin interviewing candidates, you'll need to narrow the field. Many jobs receive dozens of applications. It can be difficult to sort the best from the rest.
Liberty Staffing helps you narrow the field by selecting applicants who are the best fit for the role with your business. Our screening measures help you find the right talent faster, so you can spend less time interviewing.
2. Conduct Initial Interviews
Interviewing is often intensive for the hiring team. You may not be able to narrow the field of candidates enough. Interviews themselves often take an hour or more. If you interview 10 candidates in a week, you've spent a quarter of your work week in interviews.
Liberty Staffing Services can help narrow the field further with initial interviews. We interview each and every candidate that walks through our doors. If we feel that the candidate fits what you're looking for, we can then invite them for a second interview with you.
This saves you time, since you'll only be interviewing a handful of truly outstanding candidates.
3. Administer Tests
Some employers like to administer specific screening tests to job candidates. This sometimes happens before the interview. Sometimes it happens after. In some cases, it might even occur during the interview.
You can ask Liberty Staffing to help you by overseeing this process. We could administer the testing as part of the initial screening process. Or, you can interview the candidate first, and then if the candidate seems like a good fit, we can then follow up with the candidate and administer the test to them.
4. Make Scheduling Easier
Scheduling can also be streamlined when you work with a staffing agency. Liberty Staffing will ask what days you are available for interviews, and then we will start scheduling interview appointments for you.
5. Help You Ask Better Questions
Another way a recruiter can improve your interview process is by helping you ask better questions of candidates. Recruiters are often aware of recruitment trends, so they may be more in tune with new questions people are asking.
They can also help you finetune the questions you're asking for the position you need filled. They can point you in the direction of the right questions to ask in order to get the most insight into a candidate.
Now that the interviewing process is complete, you can select the best candidate for your business and get started! Partner with Liberty Staffing Services today.