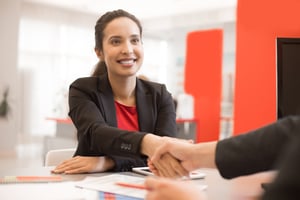 Headed to a job fair? That's great! Job fairs can be a great way to connect with numerous employers, and apply to multiple job opportunities at once. Being able to meet face-to-face with hiring managers is beneficial as well.
As a staffing agency, Liberty Staffing participates in many job fairs throughout Ontario, Canada. We are constantly recruiting for positions, and we're looking for the best candidates to present to our clients.
At Liberty Staffing, we want you to succeed professionally. We would like to provide you with some job fair etiquette tips.
1. Dress Professionally
For any job fair that you attend, you'll want to dress professionally. After all, first impressions are everything. When you're meeting with hiring managers, dress to impress. A collared shirt, dress, or dress pants will do the trick.
As you make your rounds from booth to booth, meeting employers and handing out your resume, hiring managers will probably make a note on your resume about how professional you look. Many employers take notes about candidates during job fairs because they meet so many candidates throughout the day. They want to make sure that they remember each candidate. This could be what you look like, your personality, and what type of work you're looking for.
2. Have Your Resume and Business Card Ready
Print out multiple copies of your resume, and have multiple copies of your business card ready before you head to the job fair. There's nothing worse than running out of copies of your resume/business card. You don't want to get half way through the job fair and run out of supplies. What's worse, you don't want to greet an employer, strike up a good conversation about a job opening, and not have a resume or business card to give.
With every meeting you have at the job fair, you should always offer a resume and business card, and ask the employer for their business card in return.
3. Patience is Key
Many job seekers recognize the value of attending a job fair to obtain employment. Job fairs are very popular, which means that they are often crowded.
You must have patience while attending a job fair. Wait patiently for your turn to speak with an employer. Do not sigh, constantly look at your watch, or cut off another job seeker in line to a booth. Hiring managers will notice this impatience, and will make note of this (and not in a good way). This bad attitude and disrespect will decrease your chances of landing a job. In fact, many employers will probably not even consider looking at your resume.
If the job fair is crowded, and you have limited time to attend, try going against candidate traffic, and start with booths at the back of the venue. You'll probably have better luck this way, and you'll gain more ground.
4. Be Polite and Listen Carefully
This should go without saying, but always be polite, courteous, and respectful to all employers, and job seekers, attending the event. Never cut off an employer mid-sentence when they are speaking to you.
Hiring managers can spot a bad attitude from a mile away. Body language, facial expression, and your tone of voice all give away your true attitude and persona. Carry yourself accordingly. Smiling goes a long way!
You should also listen carefully when speaking with employers. They will be discussing job openings with you, next steps after the job fair, a potential interview, and any other instructions you will need to apply with their company. If you can't listen to instructions properly from the get-go, employers are less likely to hire you.
5. Follow Up
After the job fair is over, follow up with employers the next business day. This is where the employer's business card will come in handy. Most employers will exchange their contact information with you at the job fair, so that you can keep in touch.
Follow up with the hiring manager that you met at the job fair by sending them an email, or calling them. If you're sending an email, here are some etiquette tips to follow. We would not advise texting, as this will appear unprofessional, and make you appear careless to the employer.
Best of luck at the job fair! Maybe we'll see you at an upcoming event in the area.
If you're looking for a job, get in touch with Liberty Staffing Services today! We connect great people with great jobs.