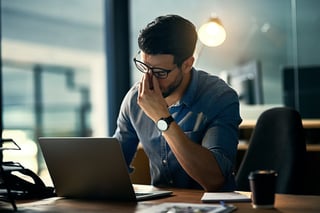 If you are currently a job seeker and reading this, know that your frustration is understandable. Looking for a job can be one of the most challenging tasks of your career.
Since looking for a job can be an exhausting process, we may not notice the mistakes we make while searching for a job. It is a good idea, as a result, to check and re-evaluate your methods. If you're feeling lost or discouraged, here are some tips to get you out of the job hunting blues.
Below are a few mistakes (some obvious, others less so) that job seekers should avoid making:
1. Not Being Open to Different Positions
Yes, you will have a dream checklist for your new job based on what you want the most in a new workplace. Maybe you'd like a certain salary, benefits, or the ability to work from home every now and then. This, however, is not a reason to disregard other available positions. Don't rule out temporary or contractual work, freelance jobs, internships, and so on. You never know where these positions can lead.
This is especially relevant if you are trying a new industry. Being an intern or a part-time employee will give you the experience required for full-time positions. It will also allow you to gain more knowledge of the industry along with some insight as to whether or not you still want to be part of it.
2. Not Attempting to Make Connections
Making the right connection can help you with some of the difficulties of finding a job. Having a reliable person who can accelerate your job search will always be a great help. To all you job seekers: locking down a position without external aid would be a great achievement, but, if the help is available to you and a potential connection is standing right in front of you, do not falter—seize that opportunity to connect. It will be worth it.
What's more, these connections could have valuable industry knowledge or they could point you in the direction of a promising new contact.
3. Not Customizing Your Resume and Cover Letter
It can get tiring to create a new resume and cover letter for every job application. Nonetheless, in an effort to stand out on an employer's desk, it is necessary. Try to be creative so that your genuine interest comes across to the employer. A resume, after all, acts your first introduction to an employer, so make it count!
4. Taking the Right Advice
Job seekers should never be discouraged from seeking advice from professionals or career counsellors. That being said, however, that is exactly all it is—advice. People can give you recommendations on how to effectively look for a job and can provide sources for you, but ultimately it is up to you to make your own decisions. Do not feel stressed by the amount of advice you get.
There is a neat little phrase: "Listen to everybody, not anybody." Don't shy away from talking to people about being a job seeker, but retain the advice that will help you and disregard what you know will not. Do not allow one person's opinion to heavily influence what you should and should not do.
Be smart with your job search. Recognize your job goals and seek it out.
5. Not Turning to Staffing Agencies
There's no shortage of myths when it comes to staffing agencies. Do not always believe what you read or hear. Try things for yourself before ruling out options. Staffing agencies can connect you with available opportunities you would otherwise miss. If you are lacking a connection, these agencies can help. It never hurts to delve into unknown territory. Go for it—you never know where it will lead.