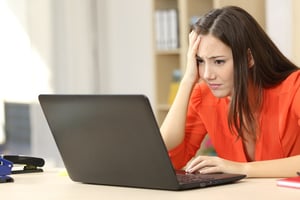 Gaining employment can be a difficult task, especially in today's current economy. However, many job seekers can be their own worst enemy.
If you're looking for a new job, here are a few things that you should watch out for. Many candidates make these common mistakes when job hunting.
1. Applying to Outdated Positions
Many job seekers make the mistake of applying to job opportunities that are outdated. If you would like to apply to a position that's advertised more than 30 days ago, it may be a good idea to call the hiring company to see if they are still recruiting for the position. After all, an employer may just have forgotten to remove the advertising, and may have already hired a suitable candidate for the position. You're more likely to obtain an interview when you apply to opportunities that are recently advertised.
2. Resume with Grammatical Errors
A common mistake that most candidates make is a resume filled with grammatical errors. An employer will think twice about asking you to come in for an interview if they see errors in your resume. Everyone is human, and we all make mistakes. Make sure to get a colleague, friend, or family member to review and edit your resume before you send it out. You can also visit your local library for resume help, or look online for a resume writing service in your area.
3. Lacking Confidence
Often, those who are unemployed lack confidence. Whether you have been let go at your previous place of employment, or if you're entering the workforce for the first time/after a long period away, many candidates carry self-doubt and anxiety. It's important to realize your self-worth and feel confident while you are searching for a job opportunity. Be open and optimistic. However, you also don't want to come off as arrogant, especially during the interview process. Find a happy medium.
4. No Follow Up After an Interview
If you've landed an interview, it's always important to follow up afterwards. Make sure to contact the manager who interviewed you to say thank you. A follow up after an interview will let the employer know that you are still interested in the position. When you follow up, it's also a good idea to state that you can be reached by phone or email when the employer has reached their hiring decision.
5. Not Connecting with a Staffing Agency
It can be hard to find a job these days. So why not connect with a staffing agency to find work? Many candidates make the mistake of not working with an agency to find employment. This is mainly because of various social stigmas and common misconceptions associated with staffing agencies. Common misconceptions include agencies not caring about their employees, only offering low paying jobs, etc. Those who refuse to apply to a staffing agency are missing out on a wide range of opportunities. Agencies have access to hidden networks, and they can help make your job search a lot easier.
Liberty Staffing can help you find the job of your dreams! Apply with us today. Get started by contacting a branch location most convenient for you. We would be happy to help you.