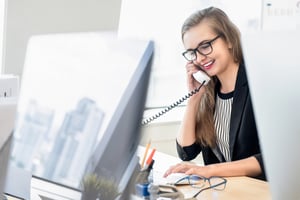 Summer sometimes means work is slower around the office. Your team may take vacations. Your clients or partners might have booked some time away.
This slowdown can be a great opportunity to get caught up on some of the other tasks that accumulate during the busy days of the other seasons. Summer office projects can also help you prepare for a busy fall.
Seasonal workers, including college and university students, can help you not only cover your employees' vacation time, but also help you complete some of these additional projects. Whether you're playing catch up or hoping to get ahead, here are some office projects to consider for your temporary workers.
1. Temporary Workers Could Help with Data Entry
Many offices are partially digitized today. You may have installed a client intake system that uses electronic data collection, which makes it easier to collect and manage data from customers going forward.
You may have older client records that need to be entered into a database from paper records. You might still use paper records as one option for collecting client information. If so, temporary workers could help you tackle this backlog.
They could also assist you if you need to migrate data from a legacy system to a new one. Whether you're preparing for an upgrade, or you're still migrating to the new system, summer workers could ease the process of moving data.
2. Get a Step Ahead with Research
Sales and marketing often conduct research. They might follow up on leads or try to find new prospects. In the IT department, the team may need to do research on which new security solution to adopt. Others may want to determine if a product or service is worth bringing to market. They might require market research or a survey of customers.
Ask your summer employees to give you a helping hand with research of almost any kind. This leaves your team free to attend to customer requests, or other tasks that require their expertise.
Research is also a great skill for temporary workers to learn. Ask them to conduct surveys, read case studies, and prepare a report. Your team can then use the information they collect to make better decisions.
3. Social Media Posting
Social media is often placed on the backburner in small and midsized businesses. Office workers often don't have enough time to post regularly and consistently to many different platforms.
Temporary workers can help you create a social media calendar and write posts months ahead of time, so you're ready to be active on social platforms for months to come.
4. Focus on IT
IT is a concern for many businesses today, but you may not have the in-house expertise, or the time to manage it properly. Temporary workers could help.
If you're implementing new software, ask them to be part of the testing team, or to help roll it out to your regular team. Seasonal workers could be involved in training as well.
Another good example is security. Summer might be a good time to upgrade security processes, or to get through a backlog of concerns. Temporary employees could help you monitor and fix security issues.
5. Get a Hand with Filing
As mentioned, many companies still keep paper files. You might, for example, keep printed copies of all payable invoices vendors send you. Alternately, you might keep electronic records, many of which need to be maintained and backed up regularly.
Summer workers could assist you with these tasks as well. Look for someone with skills in administration to help.
These are just a few ideas to get you started. If you have a summer office project in mind, it might be time to hire some temporary workers.
Ready to hire temporary workers? Contact Liberty Staffing Services today!