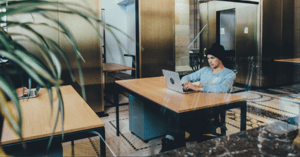 Millennials now make up a sizeable chunk of the workforce. This trend is only going to continue, as more millennials continue to enter the workforce. In fact, older millennials are now moving into senior positions in the workplace, especially as more baby boomers retire.
Whether it's for an entry level position, or a senior role in your business, here are some questions you'll want to ask in any job interview with a millennial.
1. Ask about Community Involvement
During a job interview with a millennial, ask about their community involvement, which illuminates how millennials think about work and careers.
This generation is more likely to prioritize working with a company that reflects their own values and interests. They want to be able to make a difference, whether they're in the office or outside of it.
For this reason, knowing what a potential job candidate is doing outside of office hours can tell you a great deal about their beliefs and values. The answer to this question will help you assess how the candidate will mesh with your team and your company culture.
2. Inquire about Their Career Ambitions
"Where do you see yourself in five years?" There's a reason this question is a staple. It's tried and true, and it works just as well with millennial candidates as it does with anyone else. This is particularly important if you're interviewing for a more senior role with growth opportunity. If you're trying to implement a talent development program, you want people who are ready to grow along with you.
3. Talk about Feedback
Millennials may also have different ideas about where they fit in on a team, and how they should work with their colleagues, supervisors, and managers. Many see themselves as a key part of the team, and they want to be able to support their teammates by completing tasks on time and correctly.
To that end, many millennials like to receive feedback on a more regular basis than people of other generations may be used to. In fact, many HR departments are doing away with semi-annual or annual performance reviews in favour of more on-demand feedback sessions.
You should ask about the candidate's feedback preferences. Do they like formal assessments, or do they prefer more informal conversations about how they're doing and where they could improve?
This question can also tell you more about the candidate's communication style, and even how they respond to authority.
4. Ask about a Time They Felt They Were Passed Over
Ask the job candidate to describe a time they felt they were passed over for an award or promotion. How did they handle the situation? Some candidates might have done nothing, but others might have been more proactive. They may have asked their supervisors how they could improve their performance, or what they could do differently so they would be considered.
How someone answers this question will tell you if they're ready to put in the hard work and improve their skills.
5. Inquire about Their Past Experience
You probably ask all job candidates this question anyway, and you may think you have an idea from reading over their resume. You should still ask each candidate, millennial or not, what past experience they have that's prepared them for the role they're being considered for.
Some millennials, and even people of other generations, might surprise you with informal and volunteer experience, which may not be included on their resumes.
Asking these questions and more will help you find the right people every time.