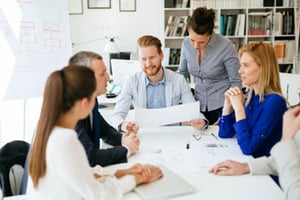 As any hiring manager will know, recruiting and hiring in house can take up a lot of time and resources. Hiring managers must demonstrate a high attention to detail through every step of the hiring process, and it can be hard to keep up standards when things get busy. For companies that have always conducted in-house hiring and recruiting, it could be time to move forward with alternative methods of bringing top talent to your team.
The recruitment process can be expensive and prone to error. Fortunately, the challenges and hassles that come with in-house recruitment don't need to be a permanent part of your business's operations. There are many benefits to partnering with a Canadian staffing agency for temporary and permanent candidate hires. Along with the hiring expertise, access to a wide network of great candidates, and the potential for temp-to-perm employment opportunities, there's no question why so many business owners are moving towards outsourcing hiring functions to staffing agencies.
Here are five reasons to engage a Canadian staffing agency to add talent to your organization.
1. Better Candidates
After writing a job description that carefully outlines all the excellent qualities you'd love to bring on your team, it can be frustrating to receive alackluster response. In partnering with a Canadian staffing agency, you don't have to sift through a broad range of talent. Agency recruiters will sort through different channels of candidate engagement in order to find the best potential employees for your company.
2. Faster Hiring
When it comes piquing the interest of top talent, recruiters are experts in knowing how to reach out, develop, and nurture relationships with the best candidates. When you finally sit down to look at the potential candidates for a position at your company, you can be confident knowing the staffing agency has prepared a shortlist of high-quality candidates, speeding up the hiring process on your end.
A Canadian staffing agency has a wide pool of qualified candidates at their disposal, all pre-screened and pre-approved. A slow hiring process can leave empty positions in your business, which comes with a host of negative effects like low productivity, employee stress, and increased overtime costs.
3. Better Retention and Reduced Turnover
Onboarding an unsuccessful employee doesn't just waste your time, it's also incredibly expensive. Especially for small businesses, bad hiring decisions can have a serious impact on revenue and workplace efficiency. A Canadian staffing agency partner comes with the expertise to make good hiring decisions based on skills, traits, and company fit. You'll keep your employees longer because of great cultural fit that leads to workplace loyalty and commitment.
4. Save Time and Money
We've already discussed how the hiring process can be time consuming and costly with a lot of tedious work involved. When you commit to taking care of these responsibilities in house, they can detract from other important tasks around the office.
When you recruit in house, you have to pay for background checks, recruitment ads, and other costs, depending on your business. A Canadian staffing agency takes care of the recruitment minutia so you can just focus on bringing the best candidates to your company.
5. Market Knowledge & Expertise
When you work with a Canadian staffing agency, you get market knowledge about top talent, average pay scales, upcoming challenges in the market, and opportunities for development. Having experts in the Canadian job market to work with you will help your business to stay competitive in your industry.
Not everyone has the time to stay informed about all the aspects of recruitment in addition to important market trends, but with a Canadian staffing agency, you benefit from expert knowledge to give you the competitive edge.