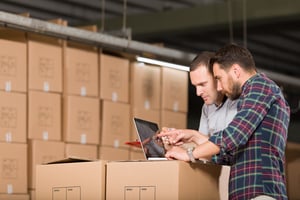 Whether it's a warehouse or the local grocery store, inventory is important in most businesses. Where there's inventory, there's a need for great Inventory Clerks.
Inventory Clerks help manage stock levels in stores and warehouses by keeping tabs on the existing level of inventory. They may help count inventory and organize the stock room. They'll also predict future needs and may help order more stock to keep inventory at optimal levels.
What skills does an Inventory Clerk need? Organization, math skills, and more can help you excel in the role. Here are a few signs you'd make a great addition to the inventory team in any business.
1. You're a Math Whiz
Inventory Clerks are responsible for counting inventory and recording it. You may need to reconcile stock reports from a central system with physical counts. You may also need to account for inventory that's been shipped out or has been ordered and is yet to arrive.
Keeping accurate counts and tallies requires good math skills, alongside good analytical abilities.
2. You're Organized
As an Inventory Clerk, you'll be responsible for more than just reconciling inventory statements and counting boxes. You may be required to locate missing stock and to help organize and tidy up the stock room.
Your organizational skills will also assist you as you prepare reports and other paperwork. You'll need to record damaged and defective items, as well as price lists. Inventory Clerks are sometimes responsible for entering barcodes or tagging merchandise with prices. You may even need to remove obsolete equipment.
Organizational skills will also help you stay on top of ordering. With you at the helm, the business will always have the right inventory level or supply stock to keep operations running smoothly.
3. You Know Your Way Around Various Software
Inventory Clerks might work with a variety of computer programs to complete their jobs.
These programs might be required to update counts, compile reports, and more. There may be software you need to use to enter barcodes or record damages and defective items. You may also be asked to update databases or use specialized programs to order more supplies.
In short, you'll need to have good computer skills to make it as an Inventory Clerk. While on the job training is usually provided, you'll be in better shape if you already have a solid set of computer skills.
4. You're a Great Communicator
The best Inventory Clerks have great communication skills. Their reports are clear, and they're able to communicate issues to their supervisors with ease. They help resolve issues that arise, whether it's between shipping and receiving, or a disagreement between what management says should be in the warehouse and what warehouse workers report is actually there.
Inventory Clerks may also find themselves commenting on inventory management practices and making recommendations for improvement. If you introduce changes or have innovative ideas, being able to get them across clearly is essential.
Some Inventory Clerks will work with customers, and being able to communicate is crucial to delivering great customer service.
5. You're Attentive to Detail
Inventory Clerks need to keep track of many small details, such as pricing information and barcodes. Counts and damages are also important. An eye for detail will help you excel in this role.
If you think an Inventory Clerk position may be right for you, get in touch with Liberty Staffing today. A new job may be on the horizon.