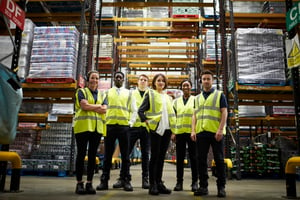 Are you interested in pursuing a career in a warehouse environment? If so, that's great! There are lots of positions available within a warehouse.
Liberty Staffing Services offers various positions within a warehouse environment. We have temporary, temporary to permanent, and permanent positions available throughout Ontario.
Warehouse work can be very fulfilling and rewarding. Here are some great positions you can find within a warehouse setting.
1. Shipper/Receiver
A shipping/receiving position involves the following: determining method of shipments, preparing bills and invoices, assembling items for shipment, and overseeing the loading and unloading of trucks, etc.
A shipper/receiver must have great attention to detail, and be able to work within a team setting.
There are many great reasons to pursue a role as a shipper/receiver. For example, there are many open opportunities available, you can choose your industry, and you can likely obtain this role quickly.
2. Order Picker
Are you organized? Do you notice the small details? A warehouse order picker would probably be a great position for you!
An order pickers' main responsibility is for picking ticket orders within the warehouse. You'll have to go through the warehouse and pick from shelves based on the ticket order. Ticket orders could describe the size, colour, and quantity of the item requested by a customer. It will also be your responsibility to ensure that the order is correct and ready for shipment.
3. Packager
Last, but certainly not least, packagers can always be found within the warehouse. The responsibilities of a packager is to package items safely and securely for delivery. Packagers may also be responsible for packaging crates with boxes of items for a truck shipment.
Ready to start your career within a warehouse? Contact and apply with Liberty Staffing Services today! We have lots of warehouse positions currently available.