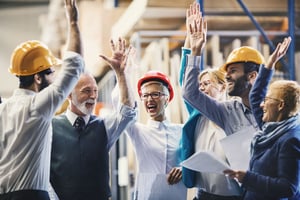 The holiday season is often one of the busiest times of the year for many different industries. Whether you're in retail or tourism, manufacturing or shipping, you may have noticed an uptick in demand. As the end of the year closes in, you may find yourself busier than ever.
If this sounds like the situation you're facing, you may be wondering how to tell if and when you need more workers.
Many business owners want to wait until they have sure signs before they begin the hiring process.This can sometimes lead to issues, as it may mean you can't get employees hired quickly enough. So how can you tell you'll need more workers?
If you look for these signs, you'll have a better chance of beating the rush, and hiring the people you need.
1. You're Already Scheduling Overtime
The first sign you're going to need more workers for the holiday season is that you're already scheduling overtime shifts to meet the increased demand.
Unless you foresee a considerable slowdown, it's likely this situation will get worse before it gets better. Get the ball rolling now and start the hiring process.
2. Operations are Getting Backed Up
In a retail store, this might mean you have long lines at the checkout or products being stocked quickly enough. In a warehouse, this could mean there are skids waiting to be shelved or shipped. In a manufacturing setting, it might mean production orders keep piling up while your team falls further and further behind.
If this is the situation you're facing, you'll likely want to hire some more workers to keep operations running smoothly. You may need to schedule extra shifts, or hire more workers, but it will be worth it to keep up with demand.
3. Someone Turned in Their Notice
If an employee has turned in their notice, you're already aware you need to hire someone to fill the vacant position. You may want to pay closer attention to this, as it could be the start of a trend.
Consider the reasons this person has decided to leave, and be sure to survey the morale on the floor. Your employees may be feeling overworked and underappreciated, and more of them may be contemplating giving their notices as well. These feelings increase if the workplace has been understaffed for some time.
Hiring could help alleviate disengagement among your employees, and it will help you offset further notices.
4. You Have to Manage Leaves and Holidays
The holiday season can also be busy because your employees may decide to take vacation time around the holidays. You may find you have trouble finding the people you need to cover all of the shifts you have.
If you can see holes in the schedule already, and there are more timeoff requests coming in, you probably need to hire more workers to help you through the holiday season.
5. You've Already Surpassed Last Year's Numbers
If you're already edging on last year's order numbers or you've already surpassed them, then it's time to take a headcount and see just how many extra workers you'll need.
Get a Jump on the Hiring Process
If you can see any of these five signs clearly, then it's time to start hiring. Work with Liberty Staffing to help ease the hiring process at this busy time of year. You'll be able to find the people you need, when you need them.