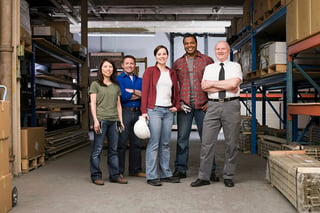 If you're thinking of hiring temporary workers for your warehouse, you may be wondering what the first step is. The answer is simple; the first thing that you should do is engage a temp staffing firm like Liberty Staffing.
More and more companies are realizing the great benefits that staffing agencies offer. Staffing agencies handle everything from the recruitment process, to payroll, and they have a large pool of qualified candidates ready for you whenever you need. Say goodbye to high turnover and the headache of payroll processes when you partner with a staffing firm to hire temporary warehouse workers.
If you are looking for temp warehouse workers, here's what you should do.
Engage a Staffing Agency
To ensure that you have top-quality temps filling your warehouse positions is to engage a staffing agency like Liberty Staffing Services. Our recruiting professionals have years of experience and are experts at placing skilled candidates in the right positions.
Liberty Staffing Services has been in business since 1999. We have 11 offices throughout southern Ontario to staff your business with top talent where you need.
Discuss Your Needs
Once you have initially engaged and chosen the staffing agencyyou'd like to partner with, now it's time to discuss in-depth what you're looking for. How many temp warehouse workers do you need? How long of a duration do you need the temp workers? What are the responsibilities of the warehouse position? What specific qualifications and characteristics are you looking for in a temp worker?
It's important to explain your organizations' culture, products, and services. Liberty Staffing takes the time to get to know you and your business to ensure that we find the right temps for you. Our goal is to fill all of your open warehouse positions successfully. To do so we must get a feel for your company culture and workplace atmosphere.
Be Honest
Once you place an order with us, and the temp warehouse workers have started, it's important that you give us honest feedback. If you love certain workers, explain why that is so that Liberty Staffing can find similar workers for you in the future.
Liberty Staffing has an open and honest communication policy. We will be honest with you when it comes to any recruiting challenges that we may face. We appreciate honesty and have built our business upon that.
Hire temp warehouse workers today with Liberty Staffing! Contact us to get started.