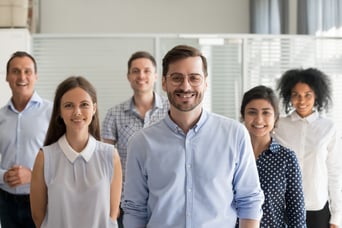 Thinking about hiring another person for your team? It's a big decision, and you may have a few reasons to delay it. Maybe you just finished hiring and you're not sure you want to start the process again, especially if you don't have to. Perhaps you're not convinced you need the extra set of hands just yet.
Liberty Staffing provides flexible staffing solutions to businesses within Ontario. How do you know when you're ready to hire an additional team member? Let these five signs point the way.
1. Your To Do List is Never Ending
Whether you hate to-do lists or swear by them, you might be ready to hire an additional team member if you can never get all those tasks crossed off.
If you're carrying the same tasks forward day after day, it means you're not finding the time for them. The reality of this situation is that you're unlikely to find the time either, because you're just too busy.
The solution is hiring another team member to take on part of the workload. With an extra set of hands around the workplace, the case of the never ending to do list will be solved.
2. Your Current Team Can't Keep Up
Maybe production expanded a few months ago, and your team's been running full-tilt ever since. If your employees seem run down or they're grumbling about being run off their feet every single shift, it could be time to look at hiring.
Even if your team's not complaining about their workload, you may want to crunch the data. The numbers can tell a different story. If people are calling in sick more often, it could be a sign they're stressed and overworked. If productivity levels are falling, the answer might be more hands, not new processes.
Take a look at how long the level of production has been sustained as well. What you thought might be a few weeks may have turned into a long term trend. If this production level is your new normal, it's time to hire.
3. You Need Expert Help
Some business owners worry that they're hiring too soon, particularly if their business is young. While hiring might strain on any company's finances, the extra help can relieve pressure, and improve productivity.
Consider a company owner who doesn't know anything about bookkeeping. This essential task has to be completed, but the owner may not be the person for the job. By doing it themselves, they risk making mistakes and tying up more time than they need to.
This can happen in any situation. If you need IT help, but don't have IT experts on staff, hiring could be a smart move. If you need to schedule appointments, but organization and day planners aren't your style, an Administrative Assistant could be the relief you need.
4. The Business Outlook is Rosy
Your business grew last year. Production is up this year, and the bottom line looks good. You're forecasting an even better year next year, and you expect productivity levels will need to rise to keep pace.
It's time to post a job advertisement, and find qualified candidates. You want to onboard them now before demand increases again, and leaves you and your team scrambling. With the books in good order, there's no reason to sleep on hiring the team members you'll need in the near future.
5. You Have a Role in Mind
An expanding business sometimes presents challenges because you don't know what roles you'll need as the business grows. A new direction may mean you need to create new roles in the company.
Even expanding production can present this challenge. If you've given any thought to the role this new hire would have, including the tasks they'd take over from other employees, you're ready to hire.
Hiring can be an intensive process, but working with an agency like Liberty Staffing can make it easier.