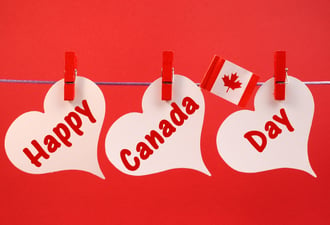 The province of Ontario has nine public holidays. One of these holidays is Canada Day. This year, Canada Day falls on Wednesday July 1st. Are you a current assignment employee of Liberty Staffing Services? If you are, you may be entitled to take the day off on Wednesday July 1st and be paid for the public holiday. However, some employees may be required to work on Canada Day. Employees who work in hotels, motels, tourist resorts, restaurants, hospitals and nursing homes, and other various continuous operations and service sectors may be required to work July 1st. Most businesses are closed on Canada Day.
Liberty Staffing Services staffs office, warehouse, and industrial positions. If you are unsure if you have time off on Canada Day, please contact Liberty Staffing today.
It can be tricky to make plans with a holiday that falls right in the middle of the week. If you have Canada Day off, we would like to offer some suggestions of what you could do on this public holiday.
1. Relax at Home
Spend Canada Day relaxing at home. You can sleep in, or read a book.
2. Spend Time with Family
Public holidays are all about spending time with family. This Canada Day, make plans with family members who also have the day off. Hosting a family dinner or barbeque is a great idea.
3. Do Chores
A holiday that falls right in the middle of the week would be perfect to catch up on some household chores. Have you been putting off laundry or cleaning the house? These tasks might not be the most glamorous things to do on your day off, but they are necessary to complete.
4. Watch Television/Movies
Time to catch up on all of your favourite television shows. Or, spend some time on Canada Day watching a movie. Movie theatres are open on July 1st.
5. Go See Fireworks
To celebrate Canada Day, go see fireworks with family and friends. Many parks within the community host firework displays on Canada Day. Don't forget to bring some chairs, warm clothes, blankets, and a camera.
Liberty Staffing Services wishes you a safe and happy Canada Day!