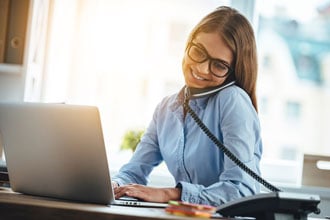 Companies hire temporary workers for a wide variety of reasons—to fill a gap left by a sick, injured, or vacationing employee, to avoid being understaffed during a busy season, to work on special projects, etc. Regardless the reason, companies hire temp workers because they need help. They expect temp workers to fill a void and maintain productivity.
However, not all temp workers are created equal. You could end up with some terrible temp staff on your workforce if you're not careful.
And terrible temps will do more harm than good—making errors, increasing the risk of accidents, reducing productivity and efficiency, or distracting your permanent workforce.
Temp workers can be a great asset to your business, but only if you take care to hire the right ones.
Here's how to avoid hiring terrible temp staff.
1. Verify the Candidates' Claims
It's scary but true: candidates will lie on their resumes in order to get a job—even a temp job. They want to seem impressive andto stand out from the crowd in order to get hired. In fact, 58% of employers have caught a lie on a resume.
It pays to be prudent and to screen temporary workers. Ask for copies of school records, certifications, awards, and anything else that can be proven through paperwork. To ensure that a candidate hasn't embellished their skills, perform skills testing during the interview.
2. Perform Background Checks
Not all temporary positions will warrant the need for a background check. But if a temp worker is going to be working with sensitive information or with a lot of money, or if you just want to have peace of mind knowing that they won't steal from you or partake in other illegal activities while on your workforce, then performing a background check is a good idea. It's an effective way to protect yourself and your company.
3. Call up References
Even if temp workers will only be with you for a short while, it still pays to check references. Not only should you call the references that the candidates have provided, but you should also find the six degrees of separation. Of course, the candidates won't offer references for supervisors and colleagues that will say bad things about them. They might even have their friends pretend to be their previous supervisors.
Don't limit your conversations to these submitted references. It's easy to look up a previous workplace's phone number and ask to talk to the candidate's previous supervisor. You might even have shared connections in the industry that you can talk to about the working relationship with the candidate. When you go beyond the provided references, you have a better chance of getting to the real truth so you can avoid hiring terrible temp staff.
4. Consider Cultural Fit
Cultural fit is important, even with temporary workers. You want your temps to provide value to your organization, and they are more likely to do this—to be more productive—if they hold the same values and beliefs as those in your company. If a temp worker believes in what you do, they'll work harder, be more pleasant, and become more of an asset.
5. Engage a Temporary Staffing Agency
The best way to avoid hiring terrible temp staff, though, is to outsource the responsibility to the experts. Engaging a temporary staffing agency can help ensure that candidates are thoroughly vetted, screened, and approved. Recruiters know what to look for in temps—they know what qualities make great employees and they know how to recognize unproductive and terrible temp staff. And they have the time, resources, and tools required to effectively screen all employees.
To hire top-quality temporary workers, contact Liberty Staffing.