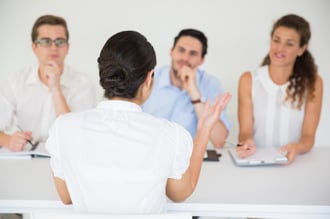 So you've attained an interview - congratulations! Getting an interview is a challenge in itself. The next step is to have a successful interview to increase your chances of landing the job.
Liberty Staffing Services offers positions which require an interview when you apply. We would like to provide our applicants with some tips to help you achieve a successful interview and land the job.
1. Don't Be Nervous
The first thing that you have to remember when preparing, and during, an interview is to keep calm. Don't be nervous. There is no need to be nervous, especially if you are fully prepared for your interview.
2. Know Your Skills and Be Prepared to Discuss Them
Be prepared to discuss your skills and abilities during an interview. If you have applied to a job which requires a specific skill set, be prepared to discuss these skills. Do your abilities and previous work experience correlate with these requirements? Be sure to let your interviewer know.
3. Learn to Talk About Yourself
Some people may find it difficult to talk about themselves, but you must learn to do so. After all, interviews are all about you and how well you would fit into the position/company. To prepare for this, ask a friend, family member, or neighbour to perform a mock interview with you.
In contrast to this, some people may find it easy to talk about themselves. If you believe this is easy, we advise that you keep the discussion on task and directed towards your professional endeavors. Also, remember to ask questions regarding the position and company.
4. Be Authentic
Just be yourself! Always remember to present your authentic self to a potential employer. An employer does not want to hire you only to find that you are a different person. Honesty is the best policy, so be yourself and always keep things professional.
5. Be Knowledgeable of the Company
Take the time to research and become knowledgeable of the company that holds the position you are applying for. The more knowledgeable you are about the company, the better. While you are researching, you may come across information regarding the person who is interviewing you. This is great because you can get to know your interviewer before your meeting. During the interview, try and use the information that you have learned from your research into the discussion. The potential employer will be impressed that you have taken the time to research the company.
Liberty Staffing Services wishes the best of luck to all of our applicants. We would love to hear how your interview went! Contact Liberty Staffing Services after you have completed your interview.