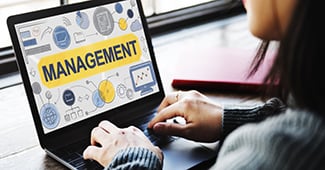 If you want to be a leader in your workplace, getting hired into a management role is likely on your list of professional goals. Managers have far more opportunities to be decision-makers and high-earners. Plus, they have more autonomy over their day-to-day work lives.
Getting hired into a management role takes more than just luck. At Liberty Staffing, we help Southern Ontario's businesses find great candidates for their open management positions. If you want to be on our list of exceptional management candidates, reach out to us today!
Here are 5 tips you can utilize for making the jump to management.
Look for Leadership Opportunities in Your Current Role
Your current job title might not include "manager," "assistant manager," or "lead," but that doesn't mean you can't find opportunities to be a leader in the workplace.
Anyone who is being seriously considered for a management position will already have a resume that speaks to their consistent success in non-management positions. But there is something that goes even further than just a track record of good work: a record of leadership.
Leadership can look like mentoring a new, less experienced coworker. It can look like being involved in planning committees, joining feedback teams, and taking the initiative on employee-led projects.
You can also demonstrate leadership outside of work on your management resume. For example, if you run a social club, volunteer at a non-profit organization, or chair the parent's committee at your child's school, those are all things that demonstrate leadership.
Model Professionalism in the Workplace
Modeling professionalism is about demonstrating excellence in your work. Professionalism in the workplace is for everyone, not just executives or managers.
Being a professional doesn't mean wearing businesswear and carrying a briefcase. After all, professionalism can be demonstrated by people who wear uniforms to work or spend their day on the manufacturing floor.
Here is a great description of professionalism that applies to people in all kinds of jobs: "Professionalism is a person's ability to focus on their work and make decisions that benefit their employers. The way you interact with others, conduct yourself, and approach tasks all impact your professionalism. Professionalism measures how well you behave at work, how you handle stress, and how you treat coworkers. Professional people can do their jobs well, follow company policies, and avoid distractions such as conflicts with coworkers."
Embrace professional behavior to make yourself a great candidate for management roles, either in your current company or elsewhere.
Seek Out Additional Training and Certifications
Many management positions are only open to individuals with the right training and certifications. Without those specific qualifications, you may not even be eligible to apply.
For example, warehouse employees aren't required to have a forklift license to get a job. But having that license makes you a more appealing warehouse work candidate. And achieving that license is pretty much essential to being promoted into a management role.
Check with your current manager to find out what kind of training you could be working on. Sign up for optional training and be sure to participate enthusiastically in both mandatory and optional training courses. Some employers even provide incentives for additional training, including covering fees for online and in-person training courses.
Work on Your Soft Skills and Be a Team Player
Soft skills are highly desirable in today's workforce. For managers, they are essential!
These are skills that aren't related to a specific task you have trained to do. Instead, they are skills that demonstrate great behavioral and social capabilities.
Soft skills include problem-solving, critical thinking, written and spoken communication, public speaking, positive attitude, work ethic, intercultural humility and fluency, and digital literacy.
In other words, how well do you work with your colleagues? And how well do you represent the company with your actions and words?
Set a Goal and Work Toward It
Goal-setting is such an important tool for getting hired in a management position.
When you set a goal, you are holding yourself accountable to actually achieve it. Having a vague idea that you "want to be in management someday" looks pretty different from writing down a list of short-term and long-term goals that will help you get there.
Ready for a Change?
If you're ready for something to change in your professional life, Liberty Staffing is here to help.
Maybe you've climbed as high as you can in your current workplace. Maybe you're ready for a change in location, schedule, or company culture.
Whatever your unique situation, we can get you on the right track to a management position by pairing you with a great employer. Contact Liberty Staffing to learn more about your options!