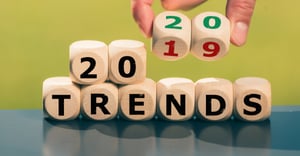 With 2019 coming to a close, you're planning ahead for the next 12 months. Between setting the budget and growth predictions, investments and the chance of expansion, you've been busy.
Wherever your business plans take you, you must think about your staffing needs. As you begin to detail what your ideal workforce will be, you'll also want to consider how hiring will change in 2020.
Download our whitepaper to see how we solve our clients' evolving staffing issues
Here are some of the trends we think you can expect as we head into 2020.
1. Candidates Can be Selective
Unemployment numbers have remained low in many industries over the last several years, and we don't see that trend reversing in 2020.
Candidates with in-demand skills are making decisions on where they want to work, beginning with which job advertisements they apply to. They also have the freedom to choose which company they want to work for.
As an employer, you really need to give it your all and wow the candidate in your job advertisement and in the interview.
2. Video Interviews are More Common
Technology has changed the way we work, allowing for virtual offices, remote work, and new opportunities. The cloud lets us work anytime, anywhere, while the internet connects us with our coworkers.
As employers aim to be more flexible about work schedules and remote options, they'll contemplate employees who live outside of a certain area or region. As a result, video will become more common in interviews.
Video interviews are much like phone interviews, except they provide much of the same information an in-person interview can offer. The strength of video interviewing relies on the ability to test a candidate's proficiency for certain skills and tasks.
3. Soft Skills are Key
It seems that 2020 will be the year businesses fully embrace soft skills in their hiring practices.
Many hiring managers have focused primarily on hard skills, such as proficiency with certain software, or experience using specific machines. Soft skills are much harder to measure, although they're arguably more valuable.
Soft skills include problem-solving skills, and communication skills. These abilities serve all of your employees well, and they can be a good indicator of how well someone fits with your company culture. With that in mind, it's easy to see why more employers are emphasizing these skills.
4. Building Employer Brands and Talent Pools
Another trend we're watching is the building of employer brands. Many business leaders have thought about how they present their company to their customers. Most have thought less about how they appear to job candidates.
In a candidate-driven market, that's changing. Employers must put their best foot forward to impress candidates who have their pick of where to apply. Benefits and compensation are key components of attracting new candidates.
Candidates are also looking more deeply at what employers believe. Company culture is often reflected in how a company treats their employees, so your employer brand reflects both company culture, and employee treatment.
In short, you have to learn how to sell yourself to job candidates. This plays into another key trend, which is how you find talent and build talent pools to fuel growth. An employee referral program is crucial. Don't forget about employer review websites either, as both former and current employees may review your business.
5. Leveraging Social Media
Finally, 2020 seems to have big things in store for the use of social media in recruitment. More employers are using networks like LinkedIn to reach to the right people at the right time. These tools can also help you build talent pools.
If you're looking to craft a better hiring strategy, find more of the right people, or even use the latest technology, get in touch with Liberty Staffing Services. We can help you make 2020 a great year for hiring.