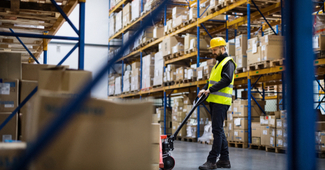 When you have been in a job for a while, it's normal to start thinking about what comes next. Specifically, how can you get a promotion?
If you're ready for a job with lots of upward mobility, Liberty Staffing can help you find one. Contact us today to learn more about how we can find you a job where you will be able to advance in the ranks.
And when you're ready to work towards a promotion, here are some pieces of advice that can help to get you there!
1. Set a Goal
Goal setting is always a good strategy to increase your workplace satisfaction and start climbing the advancement ladder. A popular strategy is to set a long term goal, such as becoming a shift leader or manager, and then identify the short term goals that will help you get there.
You can only achieve goals when you set them. We love the idea of SMART Goals. A SMART goal is one that is: Specific, Measurable, Achievable, Relevant, and Time-bound.
2. Model Professionalism in the Workplace
Are you a leader in the workplace? Do you model professionalism and courtesy to your coworkers and supervisors alike? If so, you are already on your way to being recognized as being someone with a lot of potential for promotion.
When managers look at their workforce to find people who are ready for a promotion, they look for people who show up on time, perform their job tasks well, follow through on their commitments, and are personable to those around them.
Some aspects of professionalism, like what you wear on the job or whether or not you interact with customers, are different from one career to the next. But if you are in warehousing or manufacturing, it doesn't matter if you are customer-facing or not. You can model professionalism by being attentive to detail, good at your job, and consistently kind to your colleagues and supervisors.
3. Mentor Others
No one needs an official title to be a mentor. You can mentor others long before you have an official leadership role in your company. If you want to get a promotion because you're a great leader, demonstrate your leadership skills by mentoring the people around you!
Being a good mentor is about recognizing when someone is new to the environment and needs support. You can do this by patiently showing people how to do things that they don't yet know how to do, giving an encouraging word whenever one is needed, and offering to help whenever you can.
4. Pursue Additional Credentials
Are there any special credentials you could earn? Continuing education classes you could take? Special training you could pursue?
Many companies limit management positions and promotions to individuals who have more credentials. Getting certified in an area related to your field can help a lot to show that you are serious about taking the next steps in your career.
Check with your current manager to find out what course of action they recommend for this path.
5. Communicate Your Intentions
If your current supervisors don't know that you're eager for a promotion, they might not know to consider you! Watch for opportunities to apply for a promotion, but don't hesitate to speak up about your goals, either.
Tell your manager that you are looking forward to advancing in your career. They may be able to give you some great advice about what to do next, especially because they know more about advancing in the company than you do.
Work with a Staffing Agency to Find a Job with Great Opportunities for Advancement
Liberty Staffing helps candidates find great jobs, and that includes jobs with opportunities for advancement. Even if this is your first job, or you're starting a job as a temporary worker, there's always the potential to advance in a position if you put in the time and work hard.

Reach out to Liberty Staffing today to find a great warehouse or manufacturing role with opportunity for advancement.