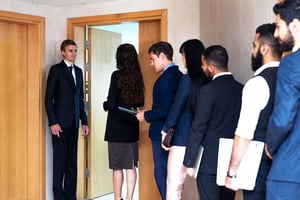 Although summer isn't over yet, hiring managers have already turned their thoughts towards the fall season. September often ushers in the beginning of peak hiring season in Canada. As everyone settles back at their desks after summer vacation, it's time to get down to business. Sales and production often pick up.
People also begin making career moves in the fall. Some of your best people may leave for new opportunities. Summer employment has come to an end, and you may find yourself scrambling to get people into roles to meet increased demands from your clients.
How can you avoid the fall hiring rush?
There are several ways to avoid the fall hiring rush, including hiring early, extending summer contracts, working with a staffing agency, and more.
1. Work With a Staffing Firm to Avoid the Fall Hiring Rush
One of the best things any hiring manager can do is partner with a staffing firm like Liberty Staffing to avoid the rush of fall hiring. This partnership will help you when you have an increasing need for workers as production demands rise, so you'll be well prepared.
A staffing firm can help you make better hires more quickly and easily. The staffing firm has hiring experts on its team. They're also using the latest technology and techniques to help you find the right people faster.
2. Avoid the Rush by Hiring Early
Instead of waiting until September, why not get a leg up on peak hiring season by starting early?
While you may be tempted to wait until a role is open, if you know you're going to be busy going into the fall months, it can make perfect sense to hire someone sooner rather than later. If you have temporary workers whose contracts are expiring, you may consider replacing those people now. If you think you'll need to hire more employees, you can begin the search for the right people before you need them.
3. Extend Summer Contracts to Avoid Fall Hiring
If you have temporary workers whose contracts are ending after the summer, another tactic to consider is extending the terms of these agreements.
This is an excellent strategy if you have great temporary workers, and you also know you're going to need to hire more workers in the fall. If a permanent position has opened up, you may consider bringing a temporary worker on permanently. You can also extend their contract to help you through the busy fall season.
You may still need to hire, but you'll also have great workers available to take on some of the work.
4. Streamline the Hiring Process
Streamlining your hiring process won't reduce the need to hire, but it can make hiring easier, even in a hectic hiring season
Take a look at your hiring process, and think about how easy it was to hire last time you needed to fill a role. Did you get the people you needed? How long did it take?
A streamlined process will reduce the time and effort that goes into hiring, making it easier to hire the right people when you need them.
5. Take Steps to Reduce Turnover
Reducing turnover may be a concern for your business, although it's not always in the hiring manager's scope. Taking steps to reduce turnover, however, can help you avoid the fall hiring rush.
If employees are engaged and content, they're less likely to leave. Think about compensation and benefits, as well as company culture. How do you treat your employees? Give them a reason to stay on and they will.
Avoiding the fall hiring rush can be done, and these tips will help you make this season one of the easiest hiring seasons yet. Contact Liberty Staffing today if you need help.