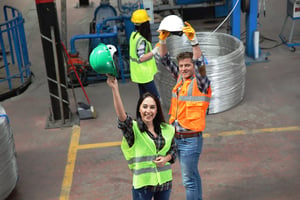 Whether you have a warehouse to store goods that you ship to clients, or you distribute to your own operations, you face many logistical challenges. Booking couriers and transportation, taking inventory, and monitoring supplies are just some of the common issues.
Another challenge is the need to ensure you have the right staffing levels. As demand fluctuates, so does your need for workers. During the holiday rush at the end of the year, you may find yourself short staffed. At other times of the year, you might not need as many people on the floor.
If you're wondering how to keep optimal staffing levels in your warehouse, these five tips are for you.
1. Use Metrics to Predict Needed Staffing Levels
Knowing your business history can be an excellent starting point for ensuring optimal staffing in your warehouse.
Take a look at past performance. What are the historical trends for your warehouse? If you're traditionally busy in December, and less so in January, you can use this information to help predict the staffing levels you'll need.
These aren't the only metrics you can use either. Take a look at levels of productivity, and growth or decline in orders. You can use these numbers to inform your projections about required staff. If you know how many orders each worker can put through in an hour or shift, you can use that to determine how many people you need on the floor at any given time.
2. Hire Temporary Workers
Another great option when it comes to staffing your warehouse is to hire temporary workers. While you'll need some permanent employees, temporary workers can give you the flexibility you require.
As the number of shipments moving through the warehouse rises and falls, you can call on temporary workers to help you through busy times.
If operations slow down a bit, these workers can move on to the next opportunity. Temporary workers can help you cover leave time, vacation, and other absences as well.
3. Work with a Staffing Agency
Another key step in ensuring optimal staffing levels for your warehouse is to work with a staffing agency like Liberty Staffing Services.
We work with you to streamline your hiring and recruitment process, so you can hire more of the right people sooner. We are skilled in finding and placing temporary workers, meaning we can help you manage your flexible workforce.
Our assistance also frees up your own time. Instead of worrying about constantly hiring, you can get back to the tasks that really matter for your warehouse operations.
Our recruiters can also help you hire temporary to permanent workers, allowing you to hire the best temporary staff on as permanent employees as you need them.
4. Plan for Absences
As mentioned, temporary workers can help you fill gaps in your schedule. Your employees may take vacation, or paid leave. You must be prepared to cover these leaves.
Planning for them is the best step you can take. Think about procedures and processes you use to cover leaves. Having a plan makes it easier to handle these situations as they arise.
5. Find the Right People
The final tip for you to ensure optimal staffing levels is to make sure your hiring process is geared to find the best candidates every time. These workers are more likely to stay with you long term, and give you their all, shift after shift.
Liberty Staffing Services can help you streamline hiring and ensure you have the right people, and the right staffing levels. Contact us today!