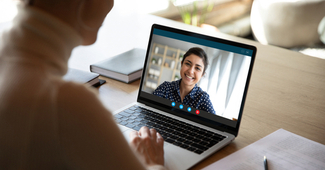 Virtual interviews aren't going away anytime soon. Even for positions where the work will be done on-site, virtual interviews provide a safe and convenient way for employers to meet potential new staff.
Do you need help finding your next job? Whether you're looking for your first job, or your next career, we're here to help. Contact us today so that we can get you an interview with a great company for the right job for you!
When you're getting ready for your online job interview, check out this list of helpful tips and tricks to stand out from the rest.
1. Treat the Virtual Interview Like an In-Person Interview
It may be tempting to think of a virtual interview as less formal than an in-person one. After all, you are likely calling in from your home, and the interviewer may be at their home, too. But even with the informality of your locations, it is important you take the interview seriously.
By showing up on time, introducing yourself with confidence, and being prepared to answer questions about yourself and your experiences, you will come across as more professional and hireable than job candidates who don't take these simple steps.
2. Dress Professionally, Regardless of the Job Description
You may be applying for a position where you will be wearing a work uniform or casual clothes. However, your interview is not a regular day on the job. This is an opportunity to demonstrate that you appreciate the interviewer taking the time to meet with you.
You probably don't need to wear a business suit, but dressing professionally will help you stand out from anyone who shows up in a t-shirt and shorts.
3. Find a Quiet, Distraction-Free Space for Your Interview
This is one of the biggest challenges for interviewees who are at home with kids and pets. Finding a quiet, distraction-free area in your home to conduct the interview is important because it will allow you to concentrate on the task at hand.
If you have kids who are old enough to keep themselves busy, explain to them the importance of giving you time to conduct the interview. It may be worth it to have a babysitter, partner, family member, or friend keep any children busy while you do the interview.
You also want to find a nice, plain background, like a clean room or a blank wall. We don't recommend having your bed in the background, especially a messy one.
4. Test the Technology BEFORE the Interview
Technology is imperfect, and it's best to test out your equipment before the interview. If you're meeting via a platform you haven't used before, download any required software the day before. You could even run a practice call with someone you know to make sure you are familiar with the features of Zoom, Google Meet, or whatever other program you might be using.
Check that all of your accessories work: microphone, headphones, webcam, etc.
Remember: some noise-cancelling headphones only cancel out the noise for you. Your microphone may still pick up noise in the room. It's best to be in a different room than anyone else.
5. Trust Your Staffing Agency
If you work with a staffing agency like Liberty Staffing, we can also help you prepare for the interview by walking you through what we know about the employer and their goals/interests. Staffing agencies have long-term relationships with their clients, which means they know what their clients are looking for. That information can be invaluable to you as an interviewer!
Working with Liberty Staffing Means Finding a Better Job, Faster
We partner with companies in countless industries to bring them the best workers, from temporary to long-term staff.
If you're looking for your next job, let's talk about how we find you the best next step to take in your professional career.