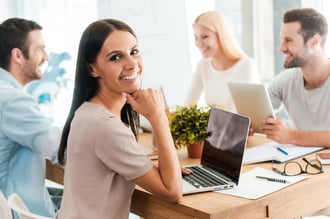 Using temporary workers can offer you myriad benefits, including extra workforce flexibility, reduced fixed payroll costs, and the gaining of specialized skills. But if you're hiring your temp workers in house, you're not taking advantage of all that a temp agency has to offer, which means a reduced ROI. Some of the benefits of using temporary staffing services are obvious—like the hiring of better talent—but others are less obvious and more unexpected.
Here are some of these unexpected benefits of using temporary staffing services.
1. You Can Save Money
Partnering with a staffing agency is often seen as an added expense—one that you could do without. But this is a common misconception about staffing and entirely untrue. Working with a temp staffing firm can actually save you money in the long run. All of those recruiting and hiring costs, like advertising and background checking, add up. And when you're hiring in house, you're the one on the hook for paying these fees. But when you work with a temp staffing firm, you pay one transparent fee, that's it—the agency will take care of paying for the rest of the costs of hiring for you.
2. You Can Gain an Edge over Your Competition
In this competitive market, you could always benefit from new knowledge in order to gain an edge over other companies just like yours. When you work with a niche agency, one that specializes in your field, you'll benefit from gaining valuable new insights and information about your industry, such as trends and opportunities, so you can always be one step ahead.
3. You Can Hire Faster and Maintain Productivity
Hiring in house just isn't efficient. It's a time-consuming process, one that might take weeks or months to complete, especially if you're busy with other responsibilities. And while you go through this hiring process, from start to finish, your productivity is reduced. You need temp workers on site now, not in several weeks from now.
One of the biggest benefits of using temporary staffing services is that you'll be able to hire faster. You'll shorten the hiring process to just a few days, and sometimes, just a few hours. The faster you can get your temp workers on site, the better you can maintain your productivity.
Recruiters already have large candidate pools, filled with pre-screened and pre-approved candidates who are ready and willing to work on short notice.
4. You'll Benefit from Fewer Incidents
Temp workers are more likely to get hurt on the job and this can be a serious issue for your company. Temp workers aren't as familiar with your equipment, machinery, workplace, or procedures, putting them at risk. This can lead to WSIB claims, lawsuits, and more.
One of the huge benefits of using temporary staffing services is that you can reduce your risk of injury or illness on the job. The agency will ensure that your temp workers are properly trained in health and safety, have the right education, experience, and certifications to do the job, and are safety conscious.
5. You'll Eliminate Administrative Hassles
You're likely aware that you'll save a wealth of time by partnering with a temp staffing agency because its recruiters will do all of the legwork during the hiring process. But one unexpected benefit that you might not be aware of is that you'll reduce your administrative hassles throughout the employment of your temps, too.
When you work with a temp staffing firm, the agency is the legal employer of the temp workers. And with this title comes many responsibilities. You won't have to worry about onboarding paperwork, payroll administration, compliance, or HR issues—those responsibilities will be on the agency's shoulders. This can significantly reduce your administrative hassles, as well as the costs associated with them.