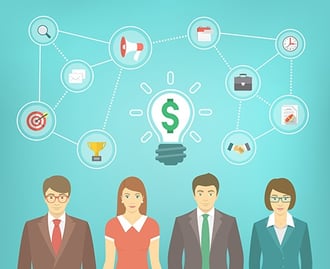 Companies are increasingly using the services of staffing agencies to fill their open positions. Candidate pools are filling up with qualified, experienced job seekers who are eager to take on new and exciting job opportunities that can allow them to gain new skills and connections.
Although the staffing industry is booming and millions of people and companies are taking advantage of the benefits of being part of the increasingly lucrative industry, it's a wonder that so many misconceptions still exist about the industry today.
Companies and job seekers who don't understand how the staffing industry works and believe these misconceptions are hesitant to work with agencies—which is a crying shame, honestly.
So below we've detailed five of the most common misconceptions about staffing, so we can set the record straight.
It's All about Temps
Short-term temps provide organizations with the labour cost reduction and flexibility that they need to survive in this economy. For this reason, many companies use them and thousands of temp staffing agencies cater to them.
However, not every agency will specialize solely in placing short-term temps. Some temp positions can last for months or years. Some firms don't even work with temps—they only recruit and hire candidates for permanent positions. Others also have temp-to-hire opportunities that allow you to try before you buy. In short, the staffing industry is about more than just temporary work.
It's Only Useful for Low-Level Jobs
When the staffing industry was in its infancy decades ago, agencies did have a heavy focus on placing job seekers with administrative-type employment opportunities. Sure, some firms still center on these types of placements, but the industry has evolved tremendously since then and you can utilize a staffing firm's services to find qualified, experienced workers who will help you to increase productivity and decrease costs in a variety of different departments. The skills that candidates have now are as varied as your staffing needs. Whatever skills you need, a staffing agency can find.
My Industry Is Too Specialized
No matter how specialized your industry is, you can find a staffing firm that works within it. Financial services, information technology, agriculture—you name it. Staffing agencies that focus on a specific niche are well qualified to find you great employees because they have in-depth knowledge of the trends, challenges, pay scales, opportunities, and risks that your organization faces in your industry on a daily basis.
It's Too Expensive
Yes, there is going to be a fee to use the services of a staffing agency, but that fee is minimal compared to what your organization might spend on recruiting and hiring in house. The time and money that is required to source applicants, read through dozens of resumes, conduct interviews, and vet candidates can add up significantly. Compliance, onboarding, and payroll can be even more expensive. But when you use a staffing firm, you can eliminate these costs.
Plus, using a staffing agency can provide you with better results and longer term hires, so you can reduce your costly turnover rate and increase your staff productivity, which equates to money saved.
Staffing Agencies Are Terrible to Their Employees
For some unknown reason, many people believe that staffing agencies don't pay their employees well, take a cut from their pay cheques, or don't care about their needs. This simply isn't true.
Though some entry-level positions offered by staffing firms do pay minimum wage, many specialized jobs pay well above average. Plus, agencies make their money from employer fees; they never take a dime from job seekers.
And lastly, they really do care about their employees' wants, needs, and interests. The happier their employees are, the better they'll perform at the jobs they're placed in, which means that employers are happier with the staffing agency's services.