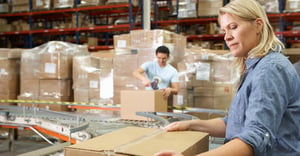 In the middle of the current pandemic, plenty of people are concerned about their job prospects. As businesses have been forced to scale back their hours, reduce services, or even shut down entirely due to COVID-19, it may not seem like there are many available jobs out there.
Despite this, there are actually quite a few sectors that are hiring right now. COVID-19 has radically shifted the needs of businesses and consumers alike, which means there's demand for a range of services.
Looking for a job? Let Liberty Staffing connect you to the jobs you want. Apply today!
Liberty Staffing offers temporary and permanent warehouse and manufacturing jobs in Ontario. What jobs are available in warehouses and manufacturing right now? You might be surprised by these five roles.
1. Manufacturers Need Packaging Personnel
You may not think that there's much need for people to package items and ship them out of a factory. After all, very few stores are open, and even fewer people are going out to buy anything beyond the necessities.
There's high demand for packaging personnel in some factories, though, particularly where products like masks and hand sanitizer are being produced. Some manufacturers have shifted over their lines, and are now working hard to produce these items and reduce or avoid shortages. They need all hands on deck to get these important items off the line and out the door, into the hands of healthcare professionals and other essential workers.
2. Production is in Full Swing for Some Manufacturers
If manufacturers need people to package up items, then they have to be producing them. Obviously, some manufacturers were already producing and shipping items like personal protective equipment or hand sanitizers. Food processors are also hard at work, trying to keep supply lines open, and essential products on shelves.
Others have answered the call to switch their production lines to meet the needs of Canadians. Some sports equipment manufacturers have turned from making shoes to making face masks or from hockey helmets to face shields for healthcare workers. Distilleries have turned their alcohol production lines from consumer drinks to hand sanitizer to help combat COVID-19.
To keep up with demand, they need a full team ready to work the line. Many manufacturers have open positions as they either gear up for expanded production or so they can give team members more time off and lower the risks of exposure.
3. Shipping and Receiving is Booming
It's not surprising that Shippers and Receivers at warehouses are also in demand. After all, they're responsible for making sure shipments of hand sanitizer, face shields, and other important items are sent out from the manufacturer to customers. They're also responsible for receiving those shipments.
Shipping and receiving is also important in other facilities, such as the food industry. Even your local grocery store and pharmacy have people who ship and receive orders.
At a time when keeping the supply chain going is key, logistics jobs become all the more important.
5. Sanitation Staff are in High Demand
Finally, COVID-19 has led most businesses to ramp up their cleaning and sanitation efforts. Some workplaces have reduced their hours to allow for more frequent and deeper cleaning. Most have introduced new cleaning protocols to help limit the spread of COVID-19 to workers, and to their customers as well.
That means there's been an increased call for staff to take on these sanitization and cleaning duties. Most factories, warehouses, and other workplaces are seeking cleaners to help keep their sanitation levels up to the highest possible standards.
Finding a Job is Possible
While the job market may not be ideal right now, that doesn't mean there aren't any jobs available. Canadians everywhere can help do their part to stop COVID-19 by seeking out employment that will help keep supply chains moving and get essential products like PPE to the people who need it most.
If you're not sure where to start looking in your job search, then get in touch with our team. Liberty Staffing Services can help you find a job. Contact us today!