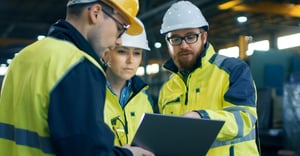 Are you thinking about a new job? Maybe you're debating about going back to school and upgrading your skills, or maybe you're ready to change career paths. If this describes your situation, it could be time to consider a career in manufacturing.
Looking for a job? Let Liberty Staffing connect you to the jobs you want. Apply today!
Why manufacturing? There are actually quite a few good reasons to think about choosing this career avenue.
1. Canada's Manufacturing Industry is Growing
One reason people don't often consider a career in manufacturing is because of the myth it's a "sunset industry" here in Canada. News about factory closures and laid-off workers have led many to believe that there's no future for Canadian manufacturing.
The truth is Canadian manufacturing is alive and well, and it's growing by leaps and bounds. While some "traditional" manufacturing operations have closed down, other companies have stepped up to the plate.
The result is a revitalized industry that's been growing rapidly over the last few years.
2. There are Jobs Aplenty
The rapid growth of Canada's manufacturing sector has been beneficial to anyone seeking a job. Manufacturers have jobs, and lots of them.
For anyone looking for a job, that's good news. Even better is the fact that many manufacturers are having trouble finding the talent they need to staff those jobs. A talent shortage has been present in manufacturing for the last few years, and it's only deepening as manufacturing continues to grow.
3. Growth Opportunities for Job Seekers
Thanks to the talent shortage, manufacturers are getting creative with their job offers. As you look for a job in the manufacturing sector, be sure to compare what employers are offering.
Some manufacturers might be willing to take on people with relatively little experience. Others could offer to provide training, or to pay for upgrade courses you'd need to take at school.
You may also find opportunities to grow once you enter the manufacturing world. You might start in one position, and grow into another opportunity with more responsibility.
All in all, you'll find there's plenty of opportunity to continue learning and growing.
4. Competitive Salaries and Benefits
Another reason to consider a career in manufacturing is compensation. Manufacturing jobs are usually well-compensated. The more experienced and skilled you are, the higher the wage you can ask for.
The talent shortage has also contributed to competitive compensation packages from many employers. While manufacturing has long provided good wages and benefits for employees, employers who are short on talent are willing to do a little more to ensure their best people stay with them.
5. An Innovative Industry for the Future
While all of this sounds good, it simply reflects the current state of the Canadian manufacturing industry. You may be wondering about the long term outlook. After all, if you choose a career in manufacturing, you want to know you'll be able to find work for years to come.
The good news is that the Canadian manufacturing industry has proven itself both resilient and innovative. Today's manufacturers are involved in emerging technologies, such as electronics assembly and artificial intelligence. Canadian companies are often at the forefront of new developments, and that story is unlikely to change in the future.
Any industry will experience some ups and downs, but the long term outlook for manufacturing in Canada is fairly rosy.
6. A Diverse World to Discover
One last reason to consider a career in manufacturing is that you won't be locked in to working the same job forever. There are many career paths, along with many different employers, different sectors, and even different models of productivity.
It's easier to find a path forward, and a great manufacturing career when you team up with the right recruitment team. Contact a Liberty Staffing branch location nearest you, and let us help you find your next manufacturing job.