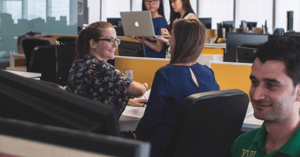 As most employers know, hiring temporary employees is a great way to maintain the flexibility needed to compete in today's marketplace. You need to be able to respond quickly to ups and downs in the business cycle, and temporary staffing can help you do so.
Like any hiring process, though, hiring and keeping temporary employees can be a challenge. Whether it's finding enough people, finding the right people, or ensuring they stay on through their contracts, temporary staffing often presents issues for even the savviest employers.
If you've encountered any of the problems mentioned, you'll be pleased to know that solutions are available.
1. Work with a Temporary Staffing Agency
When it comes to temporary staffing, the best practice any employer can use is working with an experienced agency, like Liberty Staffing. We know the ins and outs of the recruitment process, and we can help you handle everything from finding the right people, to managing payroll.
A staffing agency is best positioned to help you find the people you need, when you need them. It has a wide network of contacts it can call on to find workers with the specific talents you require. Whether you're seeking one person or one hundred people, Liberty Staffing can help.
2. Revise Your Hiring Process
Some of the challenges of working with temporary employees originate in the hiring process. If you're under pressure to get people into roles as fast as possible, you may not pay much attention to cultural fit. This can lead to situations where new people don't mesh with the current team, so they leave their contracts early, or don't put in the effort you need.
Another challenge might be hiring people fast enough, which may point to a different set of issues within the hiring process. Maybe you're not finding the right job applicants, or perhaps you're not advertising in the right places.
Take a look at your hiring process, from how you write job descriptions, to where you look for candidates and how you assess them. It could make a world of difference in your temporary staffing hires.
3. Keep Resumes on File
Another tip for managers who regularly hire temporary staff is to keep resumes on file. If someone applies and performs well during the interview process, but your open positions are currently filled, keep their contact information handy so you can get in touch with them during the next hiring cycle. You'll definitely want to do this if you know you'll be hiring again soon.
Maintaining relationships with job seekers and temporary employees could help you hire the right people sooner.
4. Hire Students
Some hiring managers avoid hiring students. You might believe they're only available during the summer months, which may not be when you need them.
Students often turn out to be hardworking and highly motivated. While most do look for summer employment, they could also be available at other times of the year. Some will have lengthy periods of time off during the winter holidays, while others will have breaks in October, February, or early spring.
Many students are also willing to work part time when school is in session, and they often return for more than one season.
5. Use Data to Assess Your Needs
Perhaps the most important aspect of hiring is anticipating your staffing needs. Today's technology gives you more data than ever, so leverage it to make long term predictions about when you'll need to hire and how many people you'll need.
Temporary staffing is easier than ever with these five tips, and partnering with Liberty Staffing. Contact us today!