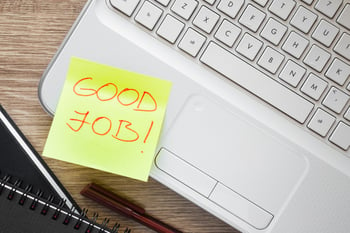 Whether you have seasonal employees for the summer, or permanent workers all year round, it's in your best interest to keep all of your employees motivated and happy while at work. Having happy workers is key to your business' overall success, not to mention your overall happiness as a business owner/manager.
Unfortunately, many professionals in the workforce today, whether temporary or permanent, say that they are unhappy at work, or dislike their job. In fact, according to The Greatness Gap: The State of Employee Disengagement conducted in 2015, 51% of North Americans stated that they were unhappy at their place of employment. The study describes that lack of company leadership, high stress levels, low pay, and lack of recognition of successes are the main contributing factors for an employee's unhappiness at work.
At Liberty Staffing, we would like to give you some tips regarding keeping your employees motivated and happy while at work. Here's how to brighten up the atmosphere.
1. Offer Words of Encouragement
Whether you verbally congratulate an employee for completing a task, or write words of encouragement on a sticky note, it's imperative that you praise your employees for their hard work. A simple thank you, or great job, goes a long way. These employees are a valuable part of your team!
The Greatness Gap study shows that an organization that positively recognizes employees on a regular basis soars in overall productivity and customer service. In fact, companies that recognize their employees' achievements perform 14% better than companies that don't.
2. Establish a Company Plan
You need to be a leader, and set a positive example to these members. Without a leader, nothing would get done. What is your business' mantra? Are your employees knowledgeable of this mission? Without leadership, or a proper company mission statement/plan, all motivation is lost. Establish a company plan, teach your employee's about this mission, and start working as a team to achieve these goals.
3. Plan Social Events
All work and no play makes Jack an unmotivated and unhappy worker. While we know that there's always lots of work to do, and little time to do it, it's important that you dedicate some time (during working hours, or after hours) to get together socially. This can be something as simple as having lunch together. Or you can plan a team building exercise outside of work. It's up to you! Make sure to invite every employee to these social events. These events will show your employees that you appreciate them. It's a rewarding, team building exercise.
4. Incentives Go a Long Way
Buy lunch for your team one day. Say thank you to an employee by buying them a coffee. If you want to do something on a larger scale, you can give the worker a bonus. If your organization deals mainly with working within a team setting, create a goal for the group. Incentives, big or small, go a long way.
5. Brainstorm With the Team
Not sure why your employees are unmotivated/unhappy? Ask them. Perhaps they are not finding the work stimulating, and they need something more challenging. Or, maybe they feel overworked. Once you find the main problem, brainstorm with your employee's and ask for their opinion regarding how to overcome the issue.
An unmotivated, unhappy worker often results in an unproductive worker. As a business owner/manager, make it your number one priority to keep your employees motivated and happy at work. We hope you will keep these tips in mind.