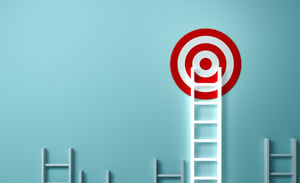 It's a brand new year, and that likely means you're thinking about all the things you'd like to accomplish this year. That could mean it's time to set some business goals for the next year.
If you're planning to set goals, be sure you follow a formula to create realistic, achievable goals. Many business leaders make the mistake of setting unrealistic or unattainable goals, which can set them up for failure.
One tried and true way to set goals is to use the SMART method. In six easy steps, you can create great goals that will be within reach.
1. Business Goals Should Be Specific
One of the most common problems with business goal setting is that business leaders tend to set vague goals. Take a look at what you've jotted down in your notes for this year and last year.
Do you have goals like "grow the business" or "be more efficient"? If you don't think you achieved these goals, there's a reason why. They're not specific enough.
Vague goals are more difficult to achieve because it's hard to map out a plan to accomplish them. If you set specific goals, such as "grow business by 5% by year end," you'll have an easier time determining how to achieve those figures, and make a plan.
2. Your Goals Should be Measurable
Another reason you may not have achieved your goals from last year is that you didn't take the time to measure your progress towards them. If your goals were vague, that may be because it was difficult to measure the goal you chose.
How do you measure efficiency or growth? You have to define them first. You also have to make sure you're using the right metrics. If you try to measure efficiency by keeping track of hours worked, you may not see progress towards the goal.
3. Set Attainable Goals for Your Business
Another problem with business goals is that they're sometimes unattainable. If you operated in Ontario last year and decided you wanted to reduce your labour costs, you would have needed to cut back on the number of team members you had or reduced the number of hours they worked.
Why? Labour costs went up in Ontario since minimum wage increased. In the face of that, goals of reducing labour costs might have quickly become unrealistic. A better goal would have been to contain labour costs to a minimal increase. Keeping increases to a few percentage points would have been much more attainable for most businesses.
4. Make Your Goals Relevant
Business goals should always be relevant to the overall business. If you say you want to be number one in customer service, but you're not a customer service facing business, does it actually mean anything?
You can also set goals like "have a more positive culture" or "hire more employees," but these goals may not be relevant to what you want to achieve. In fact, hiring more employees might be a step you take to support another goal, such as growing the business by a certain percentage.
5. Goals Should Be Time Sensitive
You may believe your goals are already time sensitive in the sense you want to achieve them within a year. Creating a timeline, such as achieving certain reductions in costs by a particular point in the year, can help you stay on track and measure your success.
6. Write Goals Down in an Action Plan
Once you've set SMART business goals, it's time to create an action plan. How will you achieve each of these goals? The plan will tell you.
Having a written version will help you stay on track throughout the year and beyond.
Partnering with Liberty Staffing Services in 2019 will bring you one step closer to achieving your staffing/business goals.