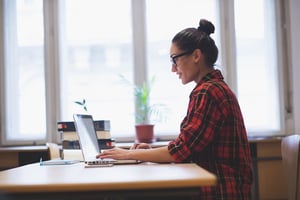 The job search is often challenging for many different reasons. Whether you're looking for a first job, seeking out temporary employment, or looking to change careers, there may be many different obstacles you meet along the way.
What are some of the most common obstacles to finding a job?
When job hunting, people often encounter issues with planning, finding opportunities, getting interviews, and getting job offers. The longer the search goes on, the more likely you are to feel less confident and lose momentum, which can be challenging in itself.
At Liberty Staffing, we would like to provide you with some tips. Let these tips help you navigate some of the most common issues you may encounter when you're looking for your next job.
1. Finding a Job Requires a Plan
How much planning have you put into your job search? Many people think it will be easy to find a job, so they don't plan accordingly.
A plan can help you stay on track and avoid distractions that can derail your job finding efforts. When creating a plan, make sure to include how many positions you would like to apply to each day, and keep track of which positions you apply to so that you can make follow up calls.
2. You're Not Finding the Right Opportunities
Once you begin the search for a job, you might feel frustrated because you're not finding the kinds of jobs you want to apply to. This is where having a plan is key.
You may not be looking in the right places to find the jobs you want. Conduct some research beforehand and find out where companies are posting the kinds of opportunities you're looking for. They may not be using the major job search sites.
3. You Haven't Been Called in for an Interview
You've applied to dozens of jobs, but you have yet to receive a callback. This is a common story for people trying to find a job.
At this stage, it's important to take a critical look at your resume and other application materials. Are they up to date? Are they easy to read?
You'll also want to check that you're using the right keywords. Many employers use applicant tracking systems, which can filter applications based on the language included.
4. You're Not Receiving Offers
You've overcome the hurdle of getting interviews, but you're never the person who gets the offer. This is a huge barrier to finding a job, and you might feel a little helpless. After all, how can you change an employer's mind?
You should brush up on your interview skills and the best practices. Even simple things, like arriving on time, can make a difference when it comes to making a good impression.
5. You've Lost Your Confidence
You have a plan, and you're applying to great opportunities. You've had several interviews, and you're sure you're acing them.
So why haven't you found a job yet?
This situation is discouraging for most job seekers. Be sure to take some time for your mental and emotional health when you're on the job hunt. Volunteer to gain experience and confidence, or engage in some activities you excel at. Keep your confidence levels high.
6. You've Lost Momentum
You started out applying to a number of open roles. Then you sat back and waited for the interviews to come rolling in. When they didn't, you started applying again, but you were more cautious now. You applied to fewer jobs.
You lost your momentum and your motivation. Finding a job requires some perseverance, though. Just like you need to keep your confidence high, you'll also need to make sure you keep your momentum.
7. You're Not Working with a Staffing Agency
One of the best tactics for finding a job is working with a staffing agency like Liberty Staffing. We offer general labour, warehouse, industrial, and office positions in temporary, temporary to permanent, and permanent opportunities.
If you're having trouble overcoming any of these obstacles, our recruiting experts can help you overcome them. Contact us today to get started.