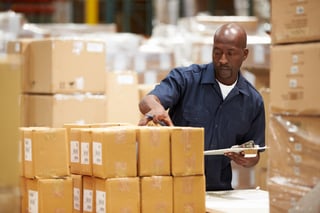 Order picking is a term under the general labour/warehouse umbrella, which describes a worker whose tasks normally include: taking and collecting articles in a specific quantity, before shipment, and ticketing and tagging the items to satisfy customers' orders. Most order picking positions are held within a logistic warehouse setting.
Quality order pickers pay great attention to detail, have strong reading and writing skills, enjoy doing repetitive tasks, and understand their importance to the supply chain's overall productivity. Without order pickers, correct shipments may not be made.
If you are looking for qualified order pickers for your warehouse, here's what you should do.
Partner with a Staffing Agency
To find quality order pickers in a pinch, your best bet would be to partner with a staffing agency, like Liberty Staffing Services. A staffing agency releases you from the headache of sorting through hundreds of resumes, and taking time out of your busy schedule for interviews. This in-house hiring process can take months, which ends up putting your production on hold. Why tie up your time, money, and internal resources? Liberty Staffing can provide you with workers when, and where you need them. All that you have to do is partner with us, and contact us whenever you require order pickers.
Try Before You Buy
You want to make sure that you hire the right candidates for your business. Don't risk making a bad hiring decision because it will ultimately cost you money, and you'll have to start the hiring process all over again. This is where a staffing agency comes in. Liberty Staffing provides a temporary to permanent hiring model, or "try before you buy" method. Basically what this means is that you can try out an employee on a temporary basis for a certain amount of hours at your warehouse, and if you like the worker, you can hire them permanently and add them to your payroll. Temporary employees are under the agency's payroll.
The temp to perm hiring model is a great way for you to try out a handful of workers to see how well they preform in their role, and if they fit in with the company's culture. Simply partner with an agency, try out the temporary to permanent staffing solution, and you'll immediately see the benefits.
Onboarding and Training
Staffing agencies can include onboarding and training processes. Liberty Staffing, for example, tests and trains for WHMIS, AODA, Workplace Violence and Harassment, and other job-specific testing on your behalf, in order to ensure that the candidates placed out at your business are equipped and ready to work from the first moment they step into the warehouse.
Partner with Liberty Staffing today! We can help you find qualified order pickers for your warehouse quickly and efficiently.