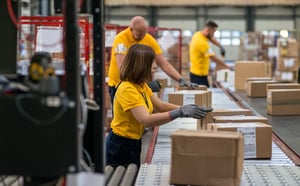 Are you looking for your next job? It's a good time to search, as many businesses are ramping up their operations for the busy holiday season. Warehouses across Canada are part of this flurry of activity. More shipments will need to be picked, packed, and sent out during the next three months, as demand from retailers, consumers, and other industries alike increases.
What kinds of positions are available in warehouses? There are quite a few different roles, one of which might be right for you. Consider some of these seven types of positions as you continue the search for your next job.
1. Receiver
The Receiver at a warehouse receives incoming shipments. This position comes with a fair amount of responsibility, since you'll need to record and verify the shipment. You'll be expected to sign off on the shipment, confirming that everything was received in good condition.
Not only will you unload shipments, but you'll also be responsible for checking packing lists, checking and recording damages, and counting skids, tubs, boxes, or containers to confirm the number.
2. General Labour
Almost every industry employs at least a few General Labourers. At a warehouse, the types of general labour roles and responsibilities are diverse. You may be asked to help with janitorial and maintenance tasks, like cleaning. In other scenarios, you may be asked to assist with rearranging and moving boxes, skids, and tubs.
3. Warehouse Associate
The Warehouse Associate is usually a jack-of-all-trades. You might be responsible for picking and packing orders. You might help load outgoing shipments, or you may take inventory. You may even help the receiver by working dockside to unload incoming shipments.
Warehouse Associates typically have some experience but may also be entry level employees. You may be hired to complete one particular task, or your duties may change on a day-to-day basis depending on the warehouse's needs.
4. Forklift Operators
Shipments have to be moved around the warehouse, and the person who does that is the Forklift Operator. They move incoming shipments to the proper places for storage, and they move outgoing shipments to the loading dock.
Forklift Operators may also assist in organizing inventory, often by moving items located on high shelves.
To do this job, you'll need specific forklift training.
5. Warehouse Manager
If you've been working in warehousing for some time, and have accumulated some experience, you might want to apply for a position as a Warehouse Manager.
You'll need experience in almost every aspect of warehouse operations, from shipping and receiving, to inventory management, to operating most motorized vehicles in and around the warehouse.
For most managerial positions, you'll need previous experience supervising a team of Warehouse Associates.
6. Material Handler
Material Handlers help with picking, packing, and inventory in a warehouse. A Material Handler needs to have experience operating a forklift, but they're also expected to do more around the warehouse. They'll often be asked to operate other motorized machines and vehicles, including cherry pickers, pallet trucks, and industrial lift trucks.
They usually assist with stacking and palletizing products, as well as loading filling machines, and using both automatic and manual packaging machines.
7. Shipping and Receiving
The Shipping and Receiving Specialist is another experienced worker who helps pick and pack orders, as well as receive shipments. They're also responsible for overseeing some of the management, such as sequencing orders, checking inventory, controlling for quality, and tracking and documenting orders.
Warehouses are currently preparing for a busy holiday season. A warehouse position might be just right for you! Contact Liberty Staffing today to see which jobs are available.