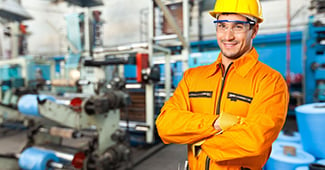 Skilled labour positions are in high demand, which is why many job seekers are polishing up their resumes and pursuing training to be able to fill these plentiful open positions.
A skilled labour position is performed by someone with high levels of training, education, or experience related to a complex job task. These can include physical and mental labour.
Liberty Staffing can help you find your next skilled labour position – or even your first one! Contact us today to learn more about how we help job seekers (like you) find great positions.
Now, let's take a look at what skilled labour looks like in today's marketplace, and why you might be the perfect fit for one of these jobs.
What Counts as Skilled Labour?
Skilled labour is an umbrella term that encompasses multiple industries and positions. Specifically, it refers to any job that requires the person performing the tasks to have high levels of training, education, or experience. Usually, this is specialized labour, and people can't just walk into a position without experience.
Some of the positions labelled as skilled labour include: custodians, HVAC technicians, plumbers, electricians, home inspectors, civil engineers, general mechanics, airplane mechanics, electrical line workers, welders, bus drivers, refuse collectors, brick masons, heavy machinery operators, carpenters, wind turbine technicians, and landscape designers.
To determine if a position is skilled labour or not, ask yourself these questions: Does this worker need a special degree, certification, or license to perform this work? Does the worker need to have experience related to this work, such as an apprenticeship, to be hired?
If the answer to both of those questions is yes, then you are likely looking at a skilled trade position. If, however, a position could be filled by anyone willing and able to do the work, then it is probably unskilled.
Important note: unskilled labour is very important to the economy, and it is rarely easy. But there are usually more opportunities for skilled labourers to advance in their careers and earn more money than unskilled workers.
How to Qualify for a Skilled Labour Position
At Liberty Staffing, we talk to many job seekers who want to know how to qualify for these high-paying skilled labour positions. It's a great question!
To qualify for one of these positions, you must have the appropriate training, education, or experience.
But how do you get the experience in the first place? Let's review your options.
Educational Programs
Many of these skilled positions are filled by individuals who attend school to learn how to do the work.
Many high schoolers in Ontario graduate with more than just a high school diploma, and also earn a Specialist High Skills Major (SHSM). Through this program, they receive on-site training and experience related to their areas of interest and professional aspirations.
If one has already finished high school or has a GED, there are also skilled trade programs at community colleges across the country.
Sometimes, employers will cover some or all of their employees' tuition to programs like this. That means that you could get hired into an unskilled position (such as a general labourer) and then qualify for tuition assistance that will prepare you for a move to other options.
Apprenticeships
Another option is to seek an apprenticeship. Becoming an apprentice allows you to earn a paycheck while learning a skill under the supervision of a far more experienced and skilled professional.
Pursuing Certification
Earning a certificate in your chosen trade is another strategy. This is often done in conjunction with a specific training program, apprenticeship, or on-the-job training experience.
Liberty Staffing Can Put You on the Path to Working as a Skilled Labourer
As a staffing agency with more than 20 years of connections with the skilled labour workforce in Southern Ontario, Liberty Staffing knows how to get people on the lucrative path toward skilled labour careers.
We help skilled labourers who already have credentials find great positions at new companies, and we help others take their first steps toward these professions.
To learn more about the services we provide to our employees, reach out to us today! We look forward to talking with you about your aspirations and goals.