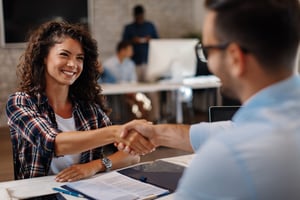 Summer is right around the corner. Depending on your industry, that could mean ramping up your hiring efforts. Those in the tourism industry and the construction industry know all too well how important it is to hire seasonal workers early.
Seasonal hiring for the summer is a big task, and you may feel overwhelmed. Don't sweat it. This survival guide will help companies hiring seasonal workers streamline the process and hire the right people every time.
Companies Hiring Seasonal Workers Must Assess Their Needs
The first matter at hand when it's time for seasonal hiring is assessing your needs. It can be difficult to know how many people you'll require next week, let alone three months from now.
Luckily, you don't need a crystal ball to make a good estimate. First, look at historical information. How many people did you hire last year? Did you have enough workers or were there many days where you were short staffed? Did you have to let people go midway through the summer?
You should also look at historical levels of production and sales data. Check current orders and productivity levels. If you have estimates and projections available, take a peek at them as well.
Finally, survey your staff about upcoming time off. Who plans to take summer vacation, and how long will they be gone? Is anyone going on a long term leave?
Now you should have a good idea of how busy you can expect to be, as well as how many people you may need to hire.
Create Great Job Descriptions
Now you know how many people to hire. How will you attract them? How will you find the talent you need for these seasonal positions?
Companies hiring seasonal workers should focus on creating great job descriptions for the positions they will be hiring for. A vague job description can make filling the role more difficult because you may end up with too many unqualified applicants.
A good job description will list the qualifications people need for the role, as well as information about your company. Remember that you don't want to be too specific, or you may unwittingly prevent the most talented people from applying.
Devise a Job Posting Strategy
How will you get your ad in front of job seekers? You'll need to post the job in a few places. You might turn to the major job boards or advertise on LinkedIn.
You can also attend job fairs, put a sign outside your business, and take out ads in the local media. Social media is another great avenue for employers to connect with potential job seekers.
Another option is to work with Liberty Staffing. We can advertise your job post throughout our network, including our database of qualified candidates.
Streamline Interviews
Once you've posted your job ads, you'll begin receiving applications. Be sure to screen candidates to sort the best from the rest. You can use software or ask candidates to complete a test. If you're working with a staffing agency, the recruiters will be able to complete the screening activities.
Next, it's time for the interview. With the right screening measures in place, you should be able to minimize the number of interviews you schedule. Liberty Staffing can even conduct initial interviews, then pass along only the best candidates for your review.
This helps you save time since you'll only interview the top candidates. It may also lead to faster hiring.
Keep Hiring through the Summer
A final tip for companies hiring seasonal workers is to keep recruiting throughout the spring and summer. You can do the bulk of your hiring now, but you may need to replace people over the coming months.
Liberty Staffing can help you manage the process all summer long.