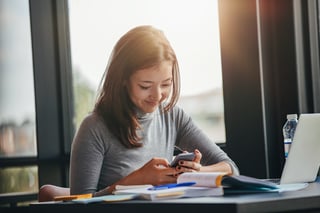 Over the summer, some students were seasonally employed, while others left previous employment to embark on new career paths. You might be tempted to cut ties with your previous employer for any number of reasons. Yet there are more reasons you should keep in touch.
1. Further Opportunities
This is particularly important for students back in school after being seasonally employed. If you're in a multi-year program, you'll probably end up looking for summer employment again.
A former employer is likely to hire you back, provided you were a good worker and you left on good terms. Staying in touch makes it more likely the employer will remember you in April or May when you're looking for work.
2. Seasonal Opportunities
Some employers also have seasonal opportunities in addition to those offered in the summer. They may need extra help around the holidays, for example. They may also need seasonal help during the winter or the spring months, when you may have additional time.
3. Part-Time Opportunities
Your employer might have let you go at the end of the summer because your contract was at an end or there was a seasonal slowdown. The situation may change.
You may be able to work part-time while you're studying. Whether you're trying to get money for next semester's tuition or you need some extra pocket money, a part-time opportunity might be good for you.
If you stay in touch, you'll be first and foremost on your employer's mind to hire back.
Your employer may also want to negotiate something of a "stand-by" or contractual service, wherein they can call you in, say, if they need some overtime worked or someone calls in sick. If these opportunities are available, staying in touch can keep you at the top of the list.
4. A First Job
Students want to keep in touch with employers since they may be the first to offer work once they've graduated. Depending on the company, your employer may be able to put you into a role where you can actually put your education to work. Since they already know your work ethic, they'll be more likely to offer you a position than another firm.
This kind of situation is especially true for professionals who return to school to pursue another career. In fact, you may have decided to go back to school to get another position with your employer.
5. A Good Reference
Your employer can provide you with something valuable: a good reference for your resume. While they may not be able to hire you on full-time, they can put in a good word for you, attesting to your skills, your work ethic, and your attitude. It might help you land your first job!
6. The Grapevine
Word of mouth is often important when it comes to job seeking. A former employer might not be able to hire you themselves, but they may pass along information about job postings and opportunities. Staying in touch keeps you connected to what could be an important source of information.
So, there you have it! Six very good reasons to stay in touch with your employer, no matter why you're back in school this fall.