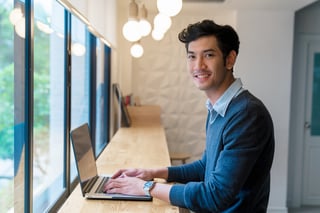 If you are an entry-level worker in the middle of a job hunt and currently do not have a lot of professional experience to include in your resume, don't fret. There is definitely a job out there for you; it is just a matter of knowing how to find it.
Temp jobs are increasing in popularity. This is due not only to the flexible nature of these positions, but also because of the increase in use of staffing agencies to help with the job search.
Especially if you are an entry-level job seeker and are uncertain as to the industry that you'd like to work in, with temporary positions you can get a glimpse of different companies without having to commit to them full time. Additionally, more companies are starting to be more open to hiring temporary workers.
Looking for a job right after graduating can be very tough, and the desire of young job seekers is often to find permanent positions right away. But patience is the key with the job market. Temporary positions can definitely kick start your career, it's just a matter of presenting yourself as an asset to the company.
Use Staffing Agencies
As an entry-level worker new to the professional world, you may not know where to start looking for jobs. This could make the search overwhelming and sometimes discouraging. This is where staffing agencies are your solution. These agencies are staffed with professional recruiters who have the ability to provide you with available positions.
If you are currently searching for work, definitely look into partnering with a staffing agency to aid in your search. Staffing agencies have access to connections and networks inaccessible to solo candidates. Based on your skills and work preferences, an agency can connect you to jobs most suitable for you.
Look at Different Industries
While looking for a job, try not to limit yourself to one type of position or one industry. Explore different positions. If you indicate openness to learning and flexibility with skills, the professional recruiters working in staffing agencies can cast a wider net when looking for jobs. This is a good idea especially if you'd like to earn work experience in a new field. Doing temporary entry-level positions can give you an idea of where you could fit best.
Additionally, showing flexibility and a willingness to learn will make you more appealing to employers. If you are lacking prior work experience, you want to show your capabilities in other forms. If you are unsure as to what your strengths are, put a list together of your abilities, soft skills, hard skills, and the like. Based on this list, look at positions and industries where your potential could shine through.
Take Advantage of the Temp Job
While working in a temp job, take the time to observe your colleagues and the other position requirements. Try and help if extra hands are needed with a certain project, even if it's in a different department. This will allow you to explore a variety of your skills and get a clearer idea of your long-term career trajectory.
A misconception of temporary positions is that they don't offer valuable experience and career promise. This is not true at all. Temp jobs can absolutely lead to a permanent position through strategy, hard work, and determination. It will take effort on your part, but do not underestimate temp jobs as a viable opportunity to staying on a steady path to a great career.